Our Latest Great Place to Eat - Pichet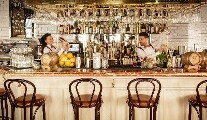 Thursday 10 November 2016
Located on Trinity Street, Pichet is a wonderfully modern take on the French bistro with great atmosphere and food to match, for which they hold a Michelin Bib Gourmand.
Head Chef, Stephen Gibson, consistently provides patrons with not only a warm welcome but a superb menu, using only the finest seasonal produce, for which he draws on his vast international culinary experience. The result has been great food made from great ingredients.
With a fabulous marble-topped cocktail bar, classical French bentwood chairs and tobacco leather seating, the décor at Pichet is chic and sophisticated. On my most recent visit, starters included tuna sashimi with avocado, cucumber, sesame, and a soya & ginger dressing; a foie gras parfait with spiced apples, walnuts and toast; and a very tasty sounding butternut squash risotto with trumpette mushrooms, brown butter, sage and goats cheese. Always a fan of good shellfish, I went for an order of mussels cooked in cider, a generous portion of the fishy favourite, accompanied by kale and pancetta. Friend Paul opted for the lamb beignets which he adored with hummus, red pepper, sumac and charred cucumber.
Gibson, who is one of our most respected and top chefs, loves to innovate in his kitchen and his menus always reflect that high level of creativity he possess. On this visit, on offer for the mains were dishes like suckling pig belly with a potato and black pudding terrine, prune, salsify and crispy pigs ears; roast potato gnocchi with roast cauliflower, caper golden raisins and smoked Gubbeen; as well as organic salmon with chargrilled broccoli, aubergine, mussel fritters and miso. Paul had the halibut, a delicious tranch served up Puy lentils, smoked bacon cream, carrot puree and a cabbage salsa, whilst I went for their Sheelin ribeye...