Restaurant Review - HX46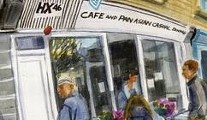 Monday 16 June 2014
'HX46 — Cafe and Pan Asian Casual Dining", emblazoned on a smart, pale-grey shop front in a row of shops on Harold's Cross Road in D6W, had me hitting the brakes for a better look.
Stainless-steel garden tables outside, along with spiral box trees in chirpy |red tubs, not to mention a busy-looking interior, with well-satisfied faces relaxing in the front windows, also looked the biz.
HX46 is the venture of a young Chinese lady, Chunna Li (pronounced like tuna, we were told). Chunna arrived towards the end of our meal, and we subtly (!) gleaned some background on the operation. She told us that, having worked in a number of restaurants here in Ireland, she went to London, where she completed |a Master's in architectural garden design. While there, she also worked for Raymond Blanc for a couple of years.
advertisement
Food seems to have been what she was drawn to most, saying, "There comes a time when you want to do something for yourself."
It's a cool, urban-diner-style room which, unlike most Oriental or Asian eateries, had an L-shaped counter bedecked with great artisan breads, cakes and treats, winking at us from the moment we went in.
The menu sported a great range of starters, soups, salads, rice, noodles, curry and wok dishes, with prices ranging from €5.50 to €11.50. We ordered a little trio of dishes to kick off — Thai crispy prawn cakes (€5.50), spicy tempura calamari (€5.50) and a quarter of crispy aromatic duck (€6.95). They weren't particularly exciting, more average take-away, and we were beginning to feel a tad disappointed.
The little fishcakes were thin, but fairly well seared, and came with a dipping bowl of sweet curry and some rocket leaves. The deep-fried squid was also very average, sitting in a mix of stir-fried spring onions, carrots, and so on, while the little piece of duck — which came with perfectly fine pancakes, cucumber, spring onion and sauce — was cold and dry.
After an average start, it suddenly swung into top gear, and another trio of dishes were ace.
We wondered had the starters suffered because we had arrived just at the start of dinner service, on the tail of a lunch special menu, which finished at 5pm? Suddenly, it was almost as if we were in a different place, because we also spotted cracking tempura king prawns, from the starter list, going to a table beside us.
We were on a high again when our spicy cumin beef (€10.95), prawn kandar curry (€10.95) and pad Thai noodles (€9.95) arrived. |Each dish was chosen for their very different and distinctive spices.
The wok-fried spicy beef was tender and plentiful, tossed with onion, peppers, mushroom, mangetout and noodles, and, with its rich, deep, cumin-based flavours, was intensely satisfying.
Kandar curry, a north Malaysian dish from Penang, rich with prawns, coconut milk, potato, mushroom, onions and peppers, was laced with the amazing sweet-sour flavours of tamarind. The pad Thai noodles were also more than ace, with flat rice noodles interspersed with chicken, king prawn, egg, peanuts, bean sprouts and chilli.
We were as happy as the proverbial fat cats, but, ultimately, still had to try the cakes! Mini chocolate brownies topped with a raspberry were 90c each, so we had two, with a slice of chocolate salami at €1.95.
With a bottle of Domaine Horgelus Gros Manseng Sauvignon Blanc blend 2013 (€24.95), which was perfect with the aromatic flavours, and two coffees (€4.10), our bill, with optional service, came to €89.70.
Check out their weekend brunches from 10am on Saturday and Sunday — and, yes, you can get eggs Benedict and a full fry-up!
It was easy to see why HX46 already had a regular clientele.
HX46,
46 Harold's Cross Road,
Dublin 6W.
Tel: (01) 538-5000
www.hx46cafe.com
www.lucindaosullivan.com