Head Chef Jenny Flynn's Food Journey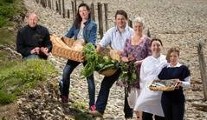 Friday 05 June 2015
'People automatically assume you're a pastry chef," says Jenny Flynn with a merry laugh. She's the head chef at Faithlegg House Hotel in Waterford - top of her game in a restaurant industry still dominated by men.
It is always very exciting to find a woman heading up a kitchen in this macho arena (just last week, the appointment of Kim Woodward as the first female chef in the 126-year history of London's Savoy Grill, hit the headlines), and you can feel the energy, enthusiasm and pride in Jenny Flynn's voice as she talks about her passion for food.
She is delivering the goods at the splendidly renovated Roseville Rooms in Faithlegg. To celebrate the new look, and the wonderful local artisan food, Jenny has created a 'Food Journey' for diners to enjoy.
Her menu takes you through the region's breadmakers, the fishermen, the seaweed foragers, the hunters and the vegetable suppliers, without you having to leave the comfort of your dining chair!
A Wexford woman, Jenny started out her culinary journey 20 years ago, aged just 14, as a kitchen porter for the Younge family in Horetown House, at Foulksmills, Co Wexford.
"In Horetown, they had a walled garden, so it was lovely. You'd be picking herbs, with guinea fowl running around your feet, foraging whatever you were dropping. It instilled in me that passion and love I have for food."
Jenny then did a Cert course (spending a year in the former Great Southern Hotel in Wexford) before going to Waterford Institute of Technology. The next few years were spent working in Kerry, and at the Tower Hotel in Waterford under executive chef John Moore, whom she says encouraged her greatly. She also worked in the Tower Hotel in Derry for a year before coming back to Waterford where, she says, she met and fell in love with her husband, Edmund (Eddie) Flynn.
It is so important in the industry for young talent to be encouraged and she generously credits chef Billy Fitzpatrick, of the former Fitzpatrick's Restaurant in Waterford, where she honed her skills. She also talks in glowing terms of French chef Eric Theze, who was formerly at Faithlegg, and now has the well-known La Boheme restaurant in Waterford.
"Eric was very supportive. He pushed me to places I probably didn't want to go. I suppose at that time I was comfortable in what I was doing, and he pushed me outside of those barriers. Then I wanted more and more.
"I wanted to be designing the menu, I wanted to put this and that on, and he allowed me to do that.
"He also guided me as to where food was going. He's very talented, he knows food, it's kind of innate in him."
As to whether Jenny ever found it difficult being a female chef, she replied strongly in the affirmative.
"Very definitely. It's tough going. You have to be bold, you have to be ballsy. It's so male dominated. I'd just say: 'I'm doing this tonight'. They'd say: 'You're on pastry'.
"I'd say: 'Okay, but I want to do mains', to which they'd reply: 'Start with potatoes!'
"You have to look on everyone as being equal. And I think its coming around a bit. At the moment, I have a very good second chef, Derek Bradley. He's very strong and supports everything we're trying to do. Another of our chefs, Matthieu, comes from the south west of France where they produce a lot of foie gras.
"So there is a love of food, not just from our kitchen but throughout the Estate, which is brilliant.
"We arranged edible seaweed foraging with sea gardener Marie Power at Rathmoylan Cove. It's not just the kitchen staff going out there, other staff are going too. So, the passion we have in the kitchen bleeds throughout the hotel, which is lovely."
Jenny says she is supporting local food - not just because it's local, but because the quality is also so good.
"We get our breads from the Seagull Bakery in Tramore. It's very hard to get consistency with bread. I'd train someone to do it here and they would do it brilliantly, then the next day it would not be so good. I was trying to get this consistency when I met Sarah Richards, from the Seagull, and she's brilliant.
"We pick things such as wild garlic, give it to Sarah and she makes wild garlic bread for us. She has a love and passion for it, which is brilliant."
Jenny is experiencing a significant rise in people's interest in food, and in its provenance. "During the downturn, people wanted to be fed. They wanted to come in, have 'the dinner' and go home. It's starting to come back around. Now they want the dining experience, which is great. People want the nice food, the nice wines. They want to be educated when they're eating. They want to know where the foods are coming from, and why the chef chose this and that.
"When I go around the restaurant to get people's feedback, they ask a lot of questions, which is great. People have a bit more money now. There are pros and cons to all these cookery shows, but I do think people are starting to appreciate the work that goes into each dish, the fact that you don't just go in and pick something out of the larder, the fact that the dish was all thought out in minute detail."
Jenny feels that people nowadays are in the cheffing business because they love it, rather than perhaps some years ago when it was a job.
"You were doing 13- or 14- hour days and people who didn't want to do it fell away - so you were left with a hardcore of people with a love of the job, and I think these people are starting to blossom."
The Faithlegg 'Food Journey' starts with fisherman John Whittle, from whom they might get plaice or turbot landed in Tramore. The plaice might be poached in seaweed butter with some asparagus, Serrano ham and cockles, which they gather at the shoreline.
Complimenting Jenny on a beautiful troncon of turbot, topped with orange and lime confit, which I loved on a recent visit, she said, this element brought out the sweetness of the fish. It was, in fact, a marriage made in heaven.
I love the lightness of touch, she brings to her cooking.
Carrots, which are turned into a carrot jelly set with carrageen moss, are sourced from Owen Dunphy's farm in Ballygunner, as are other fresh vegetables. Jason Conway, from Elda Wild Irish, shoots the rabbit for their confit of rabbit terrine and other game in season. With this rabbit terrine, Jenny serves a wonderful prune aioli.
"My head is always going, it never stops. I woke up in the night thinking: 'Prune aioli... that would go well with the rabbit'."
Jenny Flynn is a woman to watch in the culinary world.
First Published in the Sunday Independent