Absolute Hotel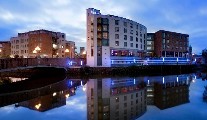 Proprietor
Donnacha Hurley, General Manager
Address
Directions
Sat Nav Co-ordinates:
N:52.66747 -W:8.61963
Loc8 Code -QJP-57-MT9
Contact
Telephone: +353 (0)61 463600
Email: info@absolutehotel.com
Website: http://www.absolutehotel.com
Description
Limerick is a great City which has come on in leaps and bounds in the area of food and sleek accommodation over the past four or five years making it an even more desirable destination to visit. One of the fabulous additions over this period has been the Absolute Hotel, which is truly absolutely fabulous on all scores, great location, great views, great accommodation, great hospitality.

We all travel so much nowadays both in the course of our work, and just for fun, and it is important that your place of rest is truly a home from home with maybe a little bit more! In fact you often see Rock Stars and celebrities toting their pillows around with them because so many hotels have uncomfortable pillows but don't worry you won't have to do that at the Absolute Hotel – it is right on the nose for today's discerning guest with every comfort.

Being located in the centre of Limerick City, close to the Hunt Museum, means that you can walk to the best shopping areas and then come back and pamper yourself in the beautiful Escape Spa. Overlooking the stunning River Shannon, the hotel is a vision of glass and contemporary design, with wonderful views and oodles of space.

There are three levels of bedrooms, Standard, Superior and Chic Suites. They are all great, spacious, stylish and sophisticated in the extreme, with King size beds, complimentary Hi Speed Broadband, 32" Plasma TVs with Satellite Channels. The difference between Standard and Superior is size, and superior rooms offer a choice of twin beds and can even accommodate three people via a fold out couch. If you want to really push the boat out, then opt for a Chic Suite. These are gorgeous, 48sq m in size with a separate bedroom and living area, including 2 Plasma TVs, private balcony, work desk, everything you could possibly want and more.

There is just a lovely modern chic feel about the whole place, including their fab New York grill style restaurant, Harry's on the River, where you can relax over a cocktail and then have something good to eat as you watch the rushing waters of the Shannon. Food here is eclectic with lots of well executed popular favourites – something for everyone.
The Absolute Hotel has it all – contemporary chic – they know what they are about here.