Foodies Fight Back with Lucinda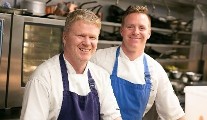 Thursday 18 March 2021
THE CONVENT KITCHEN
One hundred years ago last December, a group of Irish Benedictine nuns arrived to Kylemore Castle, Connemara, following the destruction of their Belgian home in World War I.
For years, they ran a school at what became Kylemore Abbey, but more recently they developed their amazing Victorian walled garden - and it's now a destination for thousands of visitors each year. Sr Genevieve Harrington tells me how they're managing in the pandemic. "King Edward VII considered buying Kylemore, but admitted he couldn't afford the upkeep. However, a group of impoverished nuns thought they could. Our history here has been a struggle to keep afloat. It's how the nuns came to develop enterprising skills, of which making and selling chocolate is part," she says.
The nuns had been stocking shelves expecting a bumper 2020 - only to have their hopes dashed, distributing their stock to local hospitals and essential workers. "When Covid closed down our newly refurbished kitchen and our small soap-making factory, I looked to see what could be done. I was very sad to have to say farewell to our Workaway volunteers who came to live, work and learn these skills. We had a brief window in the summer but that soon closed and has remained closed. What has stood us in good stead is the online business. Since lockdown, it has been a small but important source of business."
Sr Genevieve, with the help of Sr Jeanne and Sr Mariangela, has just added gorgeous handmade chocolate Lucky Lambs to their repertoire. "They've been well received and it looks like they'll keep us busy in the chocolate kitchen into another summer - a summer when I hope we can look through the kitchen window and see visitors waiting for the bus to take them to the Victorian walled garden."
kylemoreabbey.com
THE FARM SHOP
John and Sue McMillan opened Ballagh Farm Shop in Ballaghaderreen, Co Roscommon, in March 2020, just as Covid shut everything down - but that hasn't stopped them living their dream.
"We moved to Ireland 17 years ago with our youngest son," Sue says. "We were growing vegetables in the UK but on a very small patch of garden at home. We wanted to leave the big jobs, the rat race, and start a new, quieter life in rural Ireland."
In 2018, Sue began a business degree through Equal Ireland, graduating in December 2020. "I hoped it'd be fun and challenging, but never dreamt we'd build a Farm Shop business. We started to sell veg over our wall at home, coming up with a contactless 'text and collect' system," she says.
John built a farm shop in the garden, making it HSE compliant. He was already registered to sell Johnny's Yorkshire Wraps at markets (a unique flattened Yorkshire pud filled with striploin steak, goats' cheese and spinach), but that business closed due to Covid restrictions. "The farm shop was going to keep the wolf from the door and let us achieve our passions," Sue says. "I was already self-employed with an internet company, Virtual PA Ltd, but this income was vital."
lucindaosullivan.com
First Published In The Sunday Independent