Takeaway News - Whelehan's Wines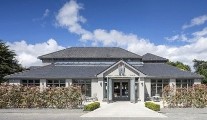 Tuesday 21 April 2020
David Whelehan's fab winebar and wine emporium in Loughlinstown, Co. Dublin, is launching a brand new restaurant drive-through from April 22nd, once again allowing relieved regulars to chow down on Chef Nick Clapham's delightful stylish casual fare.
From 10am-6pm, Wed-Sat, treat yourself to fantastic foodie treats from fish pie to beef bourguignon to pork meatballs with tagliatelle. They're doing a great antipasto box too. Call (01) 901-1144 to pre-order or by email at food@whelehanswines.ie. Menu available at whelehanswines.ie or on social media.
Whelehan's are also currrently offering a Zero Contact wine drive-through from Wed-Sat from 2pm-6pm, as well as a 24/7 online ordering service. To click & collect please enter Whelehans Wines as your shipping address at the checkout. Email sales@whelehanswines.ie or call (01) 901- 1144 for full details.