Restaurant Review - Ripasso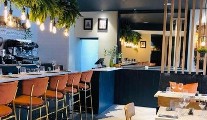 Wednesday 02 October 2019
I doubt when the Victorians built the enormous esplanade on Bray seafront that they could have envisaged the pleasure it would bring down the generations. My parents used to take me out to Bray as a child, which seemed like paradise, with limited visits to the amusement arcades allowed.
However, I couldn't get over the crowds, on a recent Sunday, with people of all ages and nationalities enjoying the sunshine, sea and ice-cream parlours along the front.
Bray has always had a good-sized Italian restaurant community. Campo di Fiori was one of the best known, but a few months back, after eighteen years here, owners Marco Roccasalvo and Laura Chiavini, returned to Sardinia, which was a big loss to local Italophiles. But, all is not lost because Gabriele Recchia's new Ripasso restaurant and wine bar, has opened in Campo's former camp. Gabriele had previously worked for Roccasalvo and Chiavini, but in more recent times he the was manager of Locks in ultra-cool Portobello.
The old Campo di Fiori was dark and quirky, but now it's as if an Ikea-style Fairy Godmother came in and waved her magic wand, transforming it into bright contemporary space. When I arrived, my friend Rena was already seated in a very snazzy alcove booth at one of two tables. I don't know Recchia personally, but he was very welcoming and easy, without being intrusive, which is all people really want when they go out.
'Snacks' (€4-€4.50) have reached Bray-on-Sea, probably by way of the bearded Recchia's hipster spell in D8. They're great little money earners, with an aperitif, but we resisted the truffle & Parmesan popcorn, Nocellara green olives, and the bread selection with dips.
Starters (€6-€12) included 24-month aged Parma ham with homemade focaccia; sauteed mussels, in small or large portions; and the choice of an 'original, vegetarian or vegan' antipasti board for two (€19). We plumped for calamari grigliata (€12) and burrata & caponata (€10.50) – both were excellent. The ball of burrata was light and fresh, offset by the rich tomatoey balsamic sultana aubergine melange, which had a good bite. The calamari grigliata looked cool, with thinly-sliced charred fennel on mixed leaves, topped with the lightly-grilled pieces of calamari, tentacles to the side, with fennel and orange segments.
Seven pizzas (€12-€17) included Siciliana with tomato, aubergine, ricotta, Parmesan and fresh chilli; as well as Gorgonzola e noci, which has a bianco base and blue cheese with walnuts and honey. Eschewing these and also tagliata of sliced Angus striploin with marinated cabbage and Parmesan, I had instead Scottadito (€21) – a trio of deliciously tender, pink as requested, lamb cutlets stacked on top of Jerusalem artichoke puree, with roast potato halves, which I resisted in favour of a side of virtuous broccoli with cashew nuts (€4).
Rena was into the pastas (€14-€26) like a shot. Top of the heap was spaghetti all'astice – chitarra egg spaghetti in "lobster spicy tomato sauce". At the lower monetary end, a vegan pumpkin & olive tortelli came with pistachio pesto, while rigatoni all' Amatriciana was with guanciale (cured pork cheek). With a little bit of help from her friend – the perils of dining with a restaurant critic – Rena had Paccheri scampi e stracciatella (€18). Show-stopper style, thick tubes of paccheri pasta on a cheesy cream, supported Dublin Bay prawns that seemed to be reaching for the skies. Not everyone likes getting their fingers messy shelling the little buggers, but it's worth it, and, in Italy, every morsel from head to tail would be sucked dry.
Puds (€6-€8.50) had tiramisu; gelato e caffe; cantucci and dessert wine. We shared a robust, somewhat thick, vegan chocolate mousse (€6.50) topped with strawberry, blackberry, grapes and kiwi.
There's lots for Italian wine buffs, starting at €25 for Nero D'Avola, up through Folonari Estate Tuscan Morellino Di Scansano DOCG 2016 at €49 to Oddera Barbaresco 'Gallina' at €115.
We stuck to a glass of house Chardonnay (€7) for Rena, and a Negroamaro Rose (€7.50) for me, which, with a double espresso (€2.20) and service, brought our bill just under the ton at €97.
Ripasso Restaurant & Wine Bar,
1 Albert Avenue, Bray, Co. Wicklow.
Tel: (01) 281-3675
ripasso.ie
lucindaosullivan.com
First Published In The Sunday Independent