Restaurant Review - Ramen Kitchen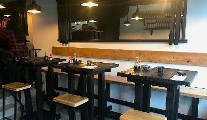 Wednesday 24 April 2019
Food styles and cuisines go in and out of fashion as quickly as clothes and interiors, and, in the past dozen or so years, we've travelled the kitchens and tables of Asia, the Middle East and South America, without ever leaving our own shores. Right now though, its all about ramen, and, if you're not enthusing about it, the social media foodie crowd will think you're just so passe.
Ramen is basically a bowl of noodles in a broth, topped with meats, seafood, vegetables, nori (dried seaweed), beans, scallions, bamboo shoots, spices, and whatever takes the fancy of the chef. It originated in China and migrated to Japan, where they put their own twists on it.
The powers of a good stock are held in high esteem by many cuisines – like the French chefs who traditionally always had their stockpot on the go, or the Jewish mothers who firmly believe in chicken stock as the miracle cure-all. A good ramen chef will tell you that it takes hours to develop their broth from chicken, fish or beef bones. Indeed 'bone broth' is so eulogised now, some people claim it's better than botox!
So, I guess it's appropriate that the newest ramen restaurant would be set in the hottest place for casual eateries in Dublin right now – Stoneybatter. I'd been in the premises when it was a clean-cut beige Italian cafe, but, when we walked into the new Ramen Kitchen, it looked like the set designers had been in. It was as dark and 'authentic' looking as what you might find in a little village in Japan. It probably seats a couple of dozen at its high tables, and those beside us turned over two or three times with quick bowls of noodles being slurped. It's no amateur operation, and it wouldn't surprise me if there were more Ramen Kitchens appearing in the not too distant future.
It's not just restricted to ramen; there's lots of other popular Japanese stalwarts. A dozen or so starters had yakitori, gyoza, and, last year's must have, the bao bun – which I'm heartily sick of, having had too many 'cotton wool' versions with a smear of filling. There was a section of Donburi Katsu curries and Battered Tendons – yes tendons – plus Bento boxes, and a great selection of Sushi including Maki – filled rice rolls; Temaki – nori cone shapes; Ngiri – fish or vegetable laid on sushi rice; Hosomaki – nori-wrapped rolls; and finally sashimi – thin slices of raw fish.
We kicked off with yasai (vegetable) gyoza (€7), which was a long plate of crimped half-moon-shaped green dumplings, lightly-seared on one side, and served with gyoza sauce. I'd only had the chicken, pork or prawn varieties before, which are probably tastier – these were a bit flaccid, and I didn't really like the bok choi flavour. Ebi Tempura (€8) – a quintet of tempura-battered jumbo prawns were hot, crispy and absolutely delicious, with a tempura dipping sauce.
We followed up by sharing a soft shell crab roll (€15.50) from the sushi maki section, which was superb, both by way of its contrast of textures and its flavours. Cut into eight pieces, it was filled with crispy tempura-cooked soft-shell crab, mixed with slivers of avocado and a delicious spicy mayo, and topped with masago – little bright red eggs of caplin fish roe – with pickled ginger and wasabi. Now that's a keeper!
So now to the famous ramen! Six varieties (€12-€14) included Spicy Kimchi beef with black garlic; Miso with pork; terriyaki salmon; tofu or rolled chicken breast. Our shared tonkotsu chashu ramen (€12) would keep any trencherman happy. It was a hearty bowl with pork broth, had bamboo shoots, spring onions, sesame, bok choi, two good slices of roast pork belly, a pickled egg, and nurutomaki – cured fish roll.
There were a half dozen red and white wines, with the cheapest (€24) in each colour being available by the glass (€6) or a small carafe (€12), as well as four varieties of sake, plum wine and Junmai (pure rice sake) from €34 per bottle or €8.50 by the glass. There was also a selection of eclectic beers (€5/€6) including Japanese, Hawaiian and Chinese.
So, all in all, very enjoyable and, with a carafe of wine for my friend (€12) and a big bottle of water for me (€4), our bill with service came to €65.
Ramen Kitchen
56 Manor Street, Stoneybatter, Dublin 7
Tel: (01) 633-0006
ramenkitchen.ie
lucindaosullivan.com
First Published In The Sunday Independent