Our Latest Great Place To Eat - Amaya Fusion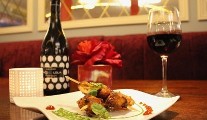 Thursday 07 March 2019
Whilst on a Kildare Outlet shopping spree with one of the girls, I got the chance to visit Amaya Fusion in Naas, which I'd been hearing about for a while, but as yet had been unable to visit, and, as soon as we arrived, I had a good feeling.
The atmosphere at Amaya feels authentic. It's so easy for restaurants to go to far with the décor, but they have it just right, creating an exotic but not over the top atmosphere. Also lending weight to the atmosphere was the service which was smiling and attentive throughout our meal, which makes such a big difference to any dining experience.
The menu at Amaya is expansive, offering so many authentic tastes, whilst also making it really hard to choose, because you want to try everything. Starters included Alloo Bonda, deep-fried crushed potato dumplings; onion bhajia with homemade mango dip; as well as murgh malai kebab of chicken supremes in a cream cheese and saffron marinade. There were Punjabi samosas of potato and peas, not to mention a tandoori Portobello mushroom salad with Ardsallagh goat's cheese and carmelised walnuts, but I was drawn to the fish tikka, which proved a rather toothsome tilapia fish cake served with a coastal Bengali style mustard and honey yoghurt. The friend went for their mizo pork fry with tasty strips of battered and fried pork fillet being served up with a homemade sweet chilli jam.
The mains had lots of interesting dishes that had our taste buds curious, as well as some more familiar dishes to cater to all comers. Favourites like chicken tikka masala, tandoori chicken and chicken korma were all there but I was more interested in the likes of their tawa jhinga dumdaar, Indian Ocean prawns with peppers, tomato, onion and a kadhai masal; or maybe the duck chettinad with rice pancake and coconut chutney. Their shorshe maach appealed to the fishophile in me with pan-seared seabass being served with mustard sauce, poppy seed and turmeric alongside some onion fritters; however I came back to shore for their slow-cooked lamb specialty, laal maas, which tasted really good with its red chilli paste, brown onions and clove. Across the table, my pal opted for a delicious murgh jalfrezi of Irish chicken, red and green peppers, ginger, spring onions and fresh tomato.