Restaurant Review - Pizza Yard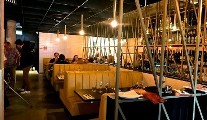 Wednesday 22 August 2018
Nick Nairn, a well-known UK based Michelin-starred chef, said recently that what people wanted nowadays at the end of the week is pizza and a glass of wine. So, he closed his Aberdeen Cookery School, replacing it with a new pizza bar, a concept he plans to expand to other cities. Our own Michelin starred Ross Lewis of Chapter One also recognised the attraction of pizza and casual Italian food with his fab Osteria Lucio on Dublin's Grand Canal Quay. Another major player on Dublin's restaurant scene, the Press Up group also incorporate pizzas in most of their businesses.
The newest hot and hip pizza restaurant is Pizza Yard in the equally hot and hip Ranelagh, which, apart from many other restaurants, will soon have a new Press Up Group hotel on its doorstep. Pizza Yard is in what was, back in the day, the old Sandford Cinema and for many years Wong's Chinese restaurant. I'm not a huge pizza eater, as I try, without much success, to keep off the 'dough', but I didn't realize until I got there, that the 'Yard' bit of the name meant that the pizzas are sold, like a length of cloth, by the yard!
The World Tour
We were seated at a great window table by he who was in charge, saying "two ladies, I have a nice table for you" – keeping us well away from families with small children at the other end. Full marks to him – a true pro.
The deal with the pizzas is that they range from one foot up to two yards (six feet), one foot being an 'individual' serving, one yard (three feet) serves 3/4 people, while two yards (six feet) serves 6/8 people. If you're into the massive ones, you can choose a different pizza variety per foot, the charge calculated per foot of each variety chosen (€13.50- €19). On top of that, there are 15 varieties, which read like the league of nations – Australiana – butternut squash sauce, mozzarella, red & yellow peppers, sweet red onion; Thai – chicken, peanut sauce; Mississippi – pulled pork, apricots and peppers. Japan featured with tuna sashimi, but France, I'm told, with its foie gras and fresh figs, was kicked out of the club as it wasn't performing well. Maybe its back now as the World Cup pizza!
Pizza plus...
Despite the moniker, its not just all about pizza and we wanted to try other dishes. So, we kicked off by sharing a one-foot pizza as a starter, sticking with Ireland, by way of their Wild Atlantic number (€19), pictured below. Baked with lobster sauce and mozzarella, topped with smoked salmon, avocado, sweet red onion, chives, capers, toasted sesame and honey mustard sauce, the base was Roman style crispy and light; it was definitely a winner.
Starters and pasta dishes (€4.50-€18) included the ubiquitous calamari; pappardelle with poached pear and Gorgonzola; spinach and ricotta ravioli, gnocchi with goats' cheese. A tuna tartare, more Japanese than Italian, with ginger and avocado in soy sauce dressing, on the starter section, had proved so popular that it was now available as a main also.
Carbing our enthusiasm
Mains (€15.50–€18.50) included risotto – prawn or Italian sausage – while the fish of the day was salmon. Lamb and mango skewers were gone, but pan-fried rose veal with prosciutto, sage and garlic (€18), was a winner – two tranches, medium-rare, tender as butter, topped with a slice each of prosciutto and served with rosemary and garlic potatoes mixed with chargrilled courgette, broccoli and tomato. Mary had well nigh perfect al dente linguine €16), tossed, not drowned, in a good tomato sauce with prawns and calamari, with Parmesan shavings.
It was all so good that it was curiosity, rather than appetite, that stimulated our interest in puds, particularly pizza struffoli (€7) and avocado chocolate mousse (€7). So, it was in for a pizza in for a total carb fest. The struffoli was deep-fried plumptuous fingers of pizza drizzled with honey, topped with chocolate, chocolate buttons and fresh fruit. The chocolate mousse was a fairly-solid chocolate ball, blended with avocado, and served in a glass with lovely strawberries.
Service was excellent and friendly, and, with a Domaine La Colombette Grenache rose 2016 (€28), perfect on a warm summer evening, bottled water (€5), and service, our bill came to €110.
Pizza Yard
7 Sandford Road,
Ranelagh, Dublin 6.
Tel: (01) 412-6278
pizzayard.ie
info@lucindaosullivan.com
First Published In The Sunday Independent