Restaurant Review - Osteria 99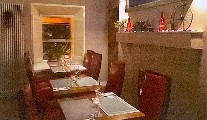 Wednesday 14 February 2018
Italian and Chinese restaurants are undoubtedly popular crowd-pleasers. With either culinary discipline, everyone from Granny to little Horace & Harriet can be satisfied with easy to eat sweet and sour dishes or spaghetti carbonara and the like. However, a Chinese run Italian restaurant was a first for me. I was in the new Osteria 99 on my home turf of Monkstown where a very friendly young lady greeted us warmly saying "you can sit anywhere you like 'my darlings'". Over Goggin's pub, this space has had a number of incarnations over the years, the most recent being a branch of Kanoodle. Actually, it had opened as Kanoodle, had another Asian name for a couple of months, then reverted back to Kanoodle.
The setting is a completely neutral combination of grey on grey with tan leather chairs, a flat TV screen mounted over a fireplace and, unlike most Chinese or Italian eateries, apart from the name outside the door and the menu, you really would have no idea of the ethos or style of the restaurant from the decor.
Italian passion
"What would 'my ladies' like?" Said our friend, as she presented the menu. "What part of Italy is the chef from?" I asked. "He's Chinese like me", she said, telling us he had worked in an Italian restaurant near Guildford, Surrey, for seven years. "I'm curious as to why you didn't open a Chinese restaurant," I asked, because, while I know there are scores of fusion confusion noodle joints all over the place, I can only think of three really good dedicated Chinese restaurants in Dublin, not to mention in SoCoDu. "He had a passion for Italian food and there are too many Chinese restaurants". She said.
We started off well with a sharing board amuse sporting a brace each of cigarillo shaped Parma ham and salami rolls - a nice touch. Antipasti (€5.95–€12.95) included stalwarts such as bruschetta al pomodoro; prosciutto with melon; pate della casa; asparagus wrapped in Parma ham grilled with Parmagiano cheese; while tiger prawns were in garlic, chilli, and a white wine cream sauce; and at the top of the range was carpaccio di filetto di Manzo.
Pass on the parcels
Rena kicked off with melenzane alla parmigiana (€8.95) a nice bowl of sliced grilled aubergine and mozzarella, lightly baked in a tomato sauce and parmigiano cheese. Calamari fritti (€9.95) was of the very finely sliced variety served with caper aioli and a salad garnish. It too was pleasant, apart from a bitter oily after taste which was still with me at 3am.
A half dozen pasta dishes (€15.95–€22.95) included spaghetti, either alla carbonara, Bolognese, or alla marinara, as well as lasagne. Rena fancied their 'Osteria Specialita Ravioli' (€17.95) filled with porcini and coated in a rich truffle cream sauce. Ravioli needs to be tightly packed little parcels holding the filling together and giving a nice firm bite in the centre. There was talk of being able to do them with spinach or mushroom, and I don't know what went wrong, but what ensued for Rena was a long plate of square watery parcels; a bit like tired pillows when the feathers have worn thin. I fared much better ordering the spaghetti alla marinara (€18.95), asking for it with tagliatelle instead, which was featuring with a beef dish, and it proved a plentiful and delicious bowl of pasta (see picture below) with lots of prawns, mussels, calamari and garlic. Fresh chilli was billed but I couldn't detect any heat coming from the sauce so I asked for some chilli or chilli powder. Our nice friend produced a bottle of Tabasco, later returning with slivers of a mild red pepper in oil.
Crank up the kitsch
We passed on desserts (€6.95) including tiramisu, chocolate mousse, lemon cheese cake and crepes with Grand Marnier. The ice cream was bought in 'as it was Italian', and we abstained from the selection of four Italian cheeses for two at a hefty €17.95. With a glass each of Merlot IGT delle Venezie Principato Cavit Veneto and Ortense Citra Abbruzzo (€6.50 each), a bottle of Acqua Panna (€5.95) and service, our bill came to €82.75. It's very pleasant and welcoming and the chef will also do some Chinese dishes (pre-order I imagine) if you're having a little occasion. But, there are over 1100 covers in Monkstown alone, and they need to add a whack of 'O Sole Mio' kitsch if they're going to compete.
Osteria 99
99 Monkstown Road, Co. Dublin.
Tel: (01) 214-3971
osteria99.ie
lucindaosullivan.com
First Published In The Sunday Independent