Restaurant Review - Campagne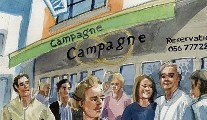 Tuesday 15 November 2016
Michelin made a big hoo
 ha about revealing their 2017 Stars for Great Britain & Ireland for
the first time at a live event in London, a lack lustre performance of 'local town hall' speeches that wouldn't have garnered them
any awards! As they continually intoned about 'Great Britain
 & Ireland', I kept thinking that maybe after last year's shock stripping of Kevin Thornton's
long held star, which saw him shut up shop a couple of weeks ago, a better effort might be made when it came to Ireland. Not a 
bit of it, 20 new stars, 19 in the
 UK and a miserly 1 in Ireland. I'm sure the boys in the tiny Heron
& Grey in Blackrock Market are thrilled (it only opens 3 days a week and they're now booked
out until next August and, Noma style, 're-opening their books for reservations in Spring 2017'!). They're more than worthy recipients, but then I can think of another 20 around the country... not to mention also the sparsity
 of fresh Bibs. I couldn't but think of James Sheridan and Soizic Humbert who pioneered this simple little venue brilliantly with their Canteen at the Market before moving to Maynooth.
I have long wondered how widely and often the 'Michelin Man' visits. It costs money to have people on the ground and it's not today or yesterday that former Michelin Inspector Pascal Remy wrote a revealing book on the subject. The internet makes it so easy to see what is happening in areas and cherry pick from what local critics are saying. The critics of three National Newspapers, including myself, raved about Heron & Grey on opening.
I was thinking on this over my boiled egg one Sunday morning recently, and as to where we could have a Michelin Sunday lunch! It transpired, we weren't going to be able to do it in Dublin, Waterford or Galway; so we were off to Garrett Byrne and Brid Hannon's Campagne in Kilkenny, who never got overly precious about having a Michelin star – in fact, it's one of the many things I love about them. They operate with the true French ethos of also being a 'local' restaurant for their community, open six days a week, where people can come for family Sunday lunch, an early bird or the full whammy, all at great prices.
On arrival, along with their a la carte, there was a 3-course lunch/ early bird menu at €33. I chose from the former, while Brendan went with the latter. He kicked off with the most amazing intensely flavoured, bowl of smoked haddock in an organic leek sauce, topped with a deep fried organic egg. I had an exquisite presentation of carpaccio 
style, wafer thin, rondelles of cured beef fillet (€15), topped with large crispy deep-fried langoustines, langoustine mayo, and a quenelle of grated artichoke and horseradish. Absolutely ace. Brendan's free-range chicken was in precision cut shards with salsify, mushroom puree and Savoy cabbage. Monkfish (€32) for me was a perfectly cooked tranch of the meaty poisson atop Coco de Paimpol beans, squid and chorizo. We also had a lovely cauliflower gratin (€4.95).
I nabbed the dessert included on Brendan's menu, an 
absolutely superb rum baba with caramelised pear, a quenelle of chestnut Chantilly, and pecan nuts. With double espressos (€3.95 each), which came with chocolate macaroons, water (€5), a bottle of Bodegas Menade, Rueda Verdejo 2014 (€34.00), and service, our bill came to €146.05.
The ambiance is sophisticated, the food superb, and the service informative and charming. I'd be there every week if I could!
Campagne

5 The Arches,
Gashouse Lane,
Kilkenny.

Tel: (056) 777-2858
campagne.ie
lucindaosullivan.com
First Published In The Sunday Independent