Restaurant Review - Christmas chow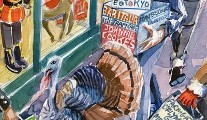 Tuesday 13 December 2016
The toy, treat and turkey frenzy is on! Christmas lights are sparkling, and shop windows are extravagantly dressed, as we head into the shop-till-you-drop period. The internet is awash with gifts, but you don't get the same touchy-feely buzz that comes with in-store shopping.
A trip to Santa Claus is essential too — memories are made on these days — but an outing has to be fuelled, so here are some pit-stop ideas.
In Dublin, The Restaurant by Johnnie Cooke in Brown Thomas, Grafton Street, has a Cal-Med menu, with small and large plates €10.50- €28.50, including a great burger with Gruyere, and 'the works' at €15.95. 'Little Shoppers' can feast
on spaghetti and meatballs, chicken goujons or savoury pancakes, all €7.50. See brownthomas.com.
Cornucopia on Wicklow Street
is great for vegetarian grub such as sweet potato, butter bean and roast garlic soup, which is available in two portion sizes, €4.35/€5.50. Mixed salad plates come in three sizes, €5.50/€8.95/€10.95; or mains €12.50- €13.95. See cornucopia.ie.
Nearby, the French-style Green Hen bistro, has a 1/2/3 course lunch menu at €15/€18/€20, featuring confit duck leg, Puy lentils and mustard mash. There's also a Christmas lunch menu at €28, with stuffed quail, venison shank, and Christmas pudding trifle (subject to change). See thegreenhen.ie.
If Italian is your bag, have a cocktail in the new Farrier & Draper in Powerscourt Townhouse Centre, before adjourning downstairs to 
La Cucina, which does pizza, pastas and risottos at €12, including crab linguine; plus small and large stuzzichini and insalata plates €7/€12. See farrieranddraper.ie.
The new Eatokyo on Wellington Quay in Dublin has a great lunch special from noon to 5pm, with Japanese bento boxes at €9.50, as well as noodles and curries at €8.50. See eatokyo.ie.
The uber-cool new Hang Dai Chinese eatery on Camden Street opens at 5pm, with sharing dishes from €5, to a half/whole wood- fired cooked duck, Beijing style, at €40/€80. See hangdaichinese.com.
Across the Liffey, Bar Italia on Ormond Quay has a three-course menu at €25, as well as cicchetti, pizzas and pastas. See baritalia.ie.
On Wolfe Tone Square, off Mary Street, check out The Tram Cafe, a fantastic old tram carriage that has been converted. It does great soups, salads, cakes, curries, stews and posh sambos. See thetramcafe.com.
The Church on Mary Street has something to suit everyone, from light bites through beef and Guinness stew, posh sandwiches and salads, to pasta and daily lunch specials. See thechurch.ie.
On Talbot Street, the legendary
101 Talbot always has interesting, eclectic food (€8-€14) from squid and chorizo salad to venison burgers; chargrilled halloumi to fish pie. See 101talbot.ie.
In Cork, street food, from Mexican to Thai to American barbecue, has really taken off, not to mention the fantastic fare available at the English Market, which also has the legendary Farmgate upstairs.
See farmgate.ie.
Look out for The Meatball Place (see themeatballplace.ie) on Carey's Lane, which will have you licking your lips, as will O'Flynn's Gourmet Sausages, which is on Winthrop Street.
See oflynnsgourmetsausages.ie.
Quinlan's Seafood Bar on Princes
Street (see seafoodbar.ie) is also a good
spot, as is Ali's Kitchen on Paul Street.
See aliskitchencork.com. The Sultan Cafe restaurant on Penrose Quay does great Moroccan and Lebanese tagines, moussakas and shawarmas, from €7.95-€12.90;
as well as a two-course lunch at €14.95.
See facebook.com/Sultan.Cork.
Also in Cork, La Dolce Vita on Proby's Quay have opened Tiramisu next door, a cafe with omelettes, eggs Benedict (€6.50), and lovely Italian sandwiches at just €4. See ladolcevitacork.ie/tiramisu. Greene's Restaurant on MacCurtain Street does
a superb 2/3-course lunch menu at €26/€29.90. See greenesrestaurant.com.
In Limerick, Thomas and Deirdre Fialon's French Table offers great value, with French onion soup at €7; tartiflettes and croque monsieur at €8; as well as a 1/2/3 course table d'hote menu, €12.50/€16/€20, including pate de campagne, confit of duck leg cassoulet and mousse au chocolat. See frenchtable.ie.
La Cucina has spread its wings from Castletroy, opening the new, industrial-cool La Cucina Centro on Henry Street. It has them rolling in. See realitalianfoodies.com.
Kaya on O'Connell Street does excellent Thai food, with mains around the €10 mark, and three courses for €15. See kaya.ie.
Down near the Hunt Museum on Rutland Street, the Bubble
Tea Paradise Healthy Cafe,
is a vegetarian/vegan Mecca, serving an all-day brunch, plus lunchtime vegan curries, quinoa burgers, wraps, veggie quiches and spinach gnocchi, in the €3.95- €8.95 range. See facebook.com/ bubbleteaparadise. Overlooking the Shannon, the Absolute Bar & Grill does a roast-turkey club sandwich at €8.50; and mains at €10/€11, including bangers and mash, a 6oz beefburger and fish 'n' fries. See absolutehotel.com.

In Galway, the very popular Asian Tea House in Galway has just opened the new Quay Noodle on Quay Street. In line with trends, it
is serving street food from China, Japan, Thailand, Vietnam and Malaysia. Think Thai red beef curry made with rib-eye steak at €12.50, and reams of noodles. See quaynoodle.com. Tribeton, the
 vast bar venue on Merchant's Road, is hot. It does casual food, with plats du jour at €10; posh sambos €8.95/€9.95; and plates, including a turkey burger topped with brie, cranberry mayo and the trimmings, at €11.95. See tribeton.ie.
Boss Doyles Bar in the Park House Hotel on Forster Street, just off Eyre Square, is a great place to revive tired feet and spirits with excellent bar food. parkhousehotel.ie John Keoghs
— The Lock Keeper is the newest gastropub to hit Galway's West End of Upper Dominick Street. There's a wonderful old-world atmosphere here, and some great gastro grub, including braised lamb shoulder with confit garlic and chive risotto at €17; and crispy, sticky barbecue pork ribs at €8. See johnkeoghs.ie.
Happy Christmas to all, and to all a good bite!
lucindaosullivan.com
FIRST PUBLISHED IN THE SUNDAY INDEPENDENT