Restaurant Review - Wilde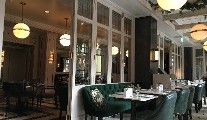 Thursday 08 December 2016
The plush five-star Westbury Hotel, located just off Grafton Street, is one of the great meeting places for Dubliners. Having shopped until they dropped, women love The Gallery for light lunches, afternoon tea or cocktails; while Balfes Bar & Brasserie, which opened a couple of years ago, is their all-day, casual, street-level dining venue, being what they call a New York-style Parisian brasserie.
Hotels do have to keep up
with worldwide trends, and the Westbury has now turned its attention to Wilde, its more formal restaurant on the first floor, giving it a shake and a stir to bring it up to date. They've moved away from the darker, discreet atmosphere
of before, with an amazing interior decor that echoes 1930s art-deco glamour and style, plus the addition of a fabulous covered garden terrace and cocktail bar.
It operates an extensive all-day menu of chic, contemporary-classic food, with something for everyone, which is really very convenient.
 No hanging around until 5.30pm for a restaurant to open, or indeed rushing in at 1.55pm, knowing 
the waiters and kitchen staff are shuffling around, hoping to get you out as fast as possible!
 Steaks and seafood major here, with John Stone 28-day-aged steaks (€22-€54) running the gamut from a 200g hanger steak through 300g rib-eyes, 250g centre-cut sirloins, and 250g fillets, up to a whopping great 500g porterhouse steak. You can also
do a 'surf 'n turf ' combo by adding a half-lobster (€18) or two giant tiger prawns (€9) to any of the steaks. Seafood itself comes by way of individually priced Carlingford Lough rock oysters and served mignonette (€3); or Asian style (€4); or with cucumber and caviar (€6). Dublin Bay prawn and shrimp cocktail is served with classic Marie Rose sauce and avocado and lime (€21); while a whole Dover sole
on the bone (€40) is served a la meuniere.
My friend Paul kicked off with Skeaghanore duck (€12), which consisted of a half-dozen slices
of crisp-skinned pink breast, perfectly sliced and laid fan-style
in a dark bowl, set off with a
zingy Asian julienned-mango and beansprout salad with toasted sesame seeds. A Korean-style tempura of soft-shell crab (€15) jumped out at me. I loved the way it was presented — the crab was crisp, dry and crunchy, topped with a fiery split chilli, and served with a little pot of intense black bean sauce and fermented slaw to the side. I'd go back for that alone!
From a "Rare Breeds" (€22/€29) selection, including burger and fries, corn-fed poussin and pan-fried veal liver, Paul had three grilled, French-trimmed, perfectly 'pink' lamb chops (€29), sitting on Moroccan-style hot harissa paste with simple dressed leaves, and a side of fries (€5). I followed up with a starter portion (€16; €32 for a main-course portion) of linguini, which, again, was beautifully presented. It was topped with palourde clams, shielding divine Castletownbere scallops, and the pasta was lightly tweaked with chilli and garlic. We shared a lovely pear and praline cake (€9), which was artfully presented, and with a bottle of deliciously crisp Chapoutier 'Marius' Vermentino 2014 (€30) from the Languedoc, bottled water (€5.90) and service (€12), our bill came to €133.90.

Worth noting is their three-course continental-style Express Lunch
at €25, Monday to Thursday. On Fridays, they do a lobster moilee curry at €36; and on Saturday and Sunday, they do a roast sirloin of beef with all the trimmings at €28. The executive chef here is Sandeep Singh, and we certainly loved his top-notch clean-cut cooking and high-end presentation. I can't wait to try his lobster moilee!