Our Latest Great Place To Eat - Connemara Greenway Cafe & Restaurant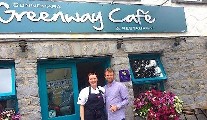 Thursday 08 December 2016
Specializing in fresh homemade meals, cakes and breads, as well providing a great range of craft beers from craft brewers near and far, and wines from carefully selected small suppliers, Johnnie and Maria Begley's café restaurant is a busy buzzy community hub doing a great breakfast menu all year round with local honey, creamy porridge, free range eggs, locally made black pudding and more delicious local fare. Dinner is offered on Fridays and Saturdays through winter and spring, but is available from Tuesday to Saturday in the summer and autumn. Their evening menu offers some really fab dishes like a striploin steak with luscious Dauphinoise potatoes, seasonal veg and garlic butter; a beef and Guinness stew with creamy mashed potatoes; as well roast duck in an orange sauce served up with baby potatoes and seasonal veg.
We arrived mid afternoon, with a whole lot of road behind us, eager to replenish ourselves and, from the moment we set foot inside, we knew we were onto a winner. Though the outside offers classic country charm, with it's rough stone walls and colourful window boxes, the interior has a clean modern style to it with black wooden furniture, white walls and grey banquets, with other embellishments to the décor being colourful but non invasive. It's warm and welcoming and the atmosphere is friendly and relaxed. Up front is the café area and to the rear they have their deli and bakery from which the smell of freshly cooked treats emanated.
There are lots of goodies to choose from on their lunchtime menu whether it's a light bite or a more substantial chomp you're looking after. They do an assortment of sandwiches made to order, as well as wraps and gluten free options, along with daily specials. A warm quiche of home baked ham and mature Irish cheddar sounded good alongside Uncle Matt's Farm salad, as did a grilled chicken super salad with pesto, pasta, broccoli, courgettes, peppers and quinoa, but I had my mind made up once I saw the grilled salmon dish...