Our Latest Great Place To Eat - Mercantile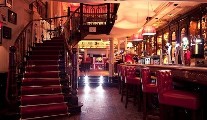 Monday 05 December 2016
With a fantastic old Dublin meets new Dublin feel, the Mercantile is the perfect place to go whether its breakfast, lunch, dinner or drinks. They have a top-notch cocktail menu with lots to try like a Wasabi Martini, a Rum Smash or their Devil in Red. Check out their after work cocktails and tapas deals from 5pm-9pm on Thursdays and Fridays. They have an excellent track record for great live music and entertainment and they're also a leading Dublin sports bar, with 9 screens showing all the major sporting events.
The décor at the Mercantile is absolutely stunning with a rich, old-world aesthetic. The lighting is just right, the artwork is tasteful, polished floors meet red leatherette and simple wooden seating, and the view we had over the balcony, down to the bar and gallery, added the fun of people-watching to the occasion.
On our early evening visit, starters included oven baked bruschetta topped with tomato concasse, mozzarella, basil and pesto; Dublin Bay steamed Mussels with a fresh tomato and basil sauce; as well as some classic chicken wings with their in-house hot sauce, blue cheese and celery sticks. Brendan went for a tasty looking classic Caesar salad with crisp Cos leaves, bacon lardons, parmesan shavings and garlic croutons served with their Mercantile Caesar dressing, whilst I quite fancied the tian of crab and avocado with fresh herbs and lemon crème fraiche with a dressing of leaves.
The mains at the Mercantile offer a wide array of choices to fit any diner, whether it's beer battered fish & chips, with tartare sauce and grilled lemon, that you're after, or linguini with pan fried tiger prawns, or simply an all day breakfast bap. They do homemade shepherd's pie with a house salad, as well as an in-house steak pie braised in a rich Guinness gravy, topped with puff pastry and served with champ mash. Their braised shank of lamb sounded good with bubble & squeak mash and a lamb jus, as did an 8oz sirloin with ragout of mushrooms and onions with a side of hand cut chips...