Our Latest Great Place To Eat - Cafe en Seine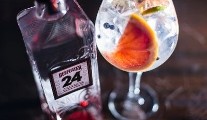 Monday 28 November 2016
The décor here is fantastic and reflects the buildings three centuries of Dublin history, from holding French prisoners in the late 18th century, to its time as a high class bordello with a clientele that included King George IV, to being a doctor's surgery, a bicycle and an automobile showroom in the modern day. With a rich gold ceiling and fab stained glass windows on the ceiling above their expansive bar, fantastic dangling light fixtures, tasteful leather seating and beautiful textured wallpapers, Café en Seine is a very special place indeed.
On our lunchtime visit, starters included an Atlantic seafood chowder with homemade soda bread; a chicken & berry salad with toasted almonds, feta and a mint lime dressing; and a warm squid salad with mango, avocado and lime dressing. Mary decided to try a Cajun sweet potato tart, which had the perfect touch of spice and arrived with chickpeas, mint and a sour cream dressing. I had a good hard look at the roasted beetroot & carrot salad on the menu, but in the end I decided I was in the mood for their hot n' spicy chicken wings, which were, as they say, finger lickin' good with cucumber and a blue cheese mayo.
For the mains, there were dishes like penne pasta with roasted asparagus, spinach, Parmesan and balsamic butter; their café burger of Irish beef served with bacon, smoked cheddar aioli and chunky chips; or a steak sandwich with cheddar, crispy onions and chips. I quite fancied the confit duck leg, which didn't fail to please. It was succulent and full-flavoured and came with a tasty side of spicy chorizo mash, crispy onions and a Port jus. Mary went for the Brioche du poulet, a terrific nod to the cuisine of French Louisiana, this tasty baked roll was thoroughly enjoyed along with its Cajun spices, crunchy coleslaw and chunky chips.