Our Latest Great Place To Eat - House of Plates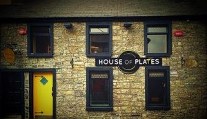 Friday 25 November 2016
It's cool, it's welcoming and, with a focus on casual, contemporary dining, Head Chef Barry Ralph and his team deal in top quality locally sourced and artisan foods sourced from their team of food partners in the surrounding region. The result is a menu that is fresh, tasty and totally moreish.
The evening menu here is split into three sections of plates: Land, Sea and Earth. For the landlubbers there were dishes like a braised shoulder of Achill lamb with spiced couscous, mint and some velvet cloud yoghurt; Crazy Bastard chicken wings with sticky pineapple, lime and horseradish crème fraiche; as well as sausage stuffed field mushrooms alongside Kelly's black pudding, apple sauce and Joe Kelly's garden leaves. From out at sea there were fresh nuggets of cod, pea puree, pickled capers, straw potatoes and lemon mayonnaise; Padraic Gannon's mussels with a Thai broth; not to mention West Coast scallops with cauliflower puree, Kelly's black pudding and a pistachio nut powder. Meanwhile, for the herbivores among us, their Earth section featured plates like Galway goats farm cheese with beetroot, honeycomb and pine nuts; parmesan and tarragon polenta with a Mediterranean vegetable stew and asparagus tips; or rather interesting sounding superfood salad of quinoa, avocado, pomegranate, olives, and beetroot with toasted seeds & nuts.
Friend Paul and I hemmed and hawed for a bit on how we would start, but in the end we decided to kick off with three shared plates. Paul quite fancied the tiger prawns in Kataiffi pastry, and I was happy to oblige, whilst I had my eye on the confit of Andarl Farm pork belly, and we were both in firm agreement about trying out the sliders. The prawns arrived with a tomato and chilli jam, Cuinneog buttermilk foam and pickled seaweed and were really very good. The pork belly came with a spiced glaze, which added a tasty zing to affairs, along with a carrot and fennel puree, crispy bacon popcorn and frozen grape. The sliders were an assortment of three different fillings within mini brioche buns, from which I laid claim to tasty lamb and mint one, whilst Paul savoured his pork and apple bun. The third, a turkey and cranberry number, we happily split in half.