Our Latest Great Place To Eat - Opium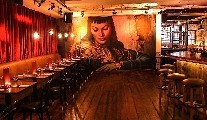 Wednesday 23 November 2016
Located at The Village, a nightclub and events venue, I really liked the warehouse like entrance and feel, with its colorful Chinese paper umbrellas, leading into a long almost Orient Express like eatery with tan leather booths and semicircle enclaves for group hugs! Moving on through, you are into a vast cocktail bar with more banquette seating, hanging light bulbs, red fabric draped walls and a large exotic mural of a beautiful Vietnamese woman. On the far side of the bar area is the open kitchen.
At Opium, they deal in casual contemporary Thai and Vietnamese food at prices that won't frighten the horses. On my most recent evening visit, Starters and small plates included Vietnamese rolls of smoked Irish trout with Gari, avocado, beansprouts, baby leaf, mint and rice paper and a sweet chilli & peanut dip; beef satay of marinated Irish fillet, chargrilled lemongrass, turmeric & galangal, with house peanut sauce, fresh pineapple and cucumber; not to mention chargrilled tiger prawns marinated in peanut & coconut curry and served with green papaya & sesame dip. Thai scallop & grilled Issan sausage of pork and rice features, as do gyoza, baby back ribs, and caramelized lemongrass chicken tenders. Paul got things going with his order of 'Meat Sung', a dish of BBQ pork, scallion, water chestnut, oyster sauce and white pepper in iceberg lettuce wraps, which went down a treat, as did my aromatic panko crab cakes with red curry, lime leaf, scallion, coriander and a Yuzu reduction, along some Asian slaw on the side
Mains and Large plates sported Singapore noodles; green chicken curry; beef Rendang; shaking beef; crispy pork belly; pad Thai omelette; clay pot lamb and Thai BBQ chicken. I went for a delicious Mekong duck, twice cooked and served with Asian greens, Morning Glory (crisp Thai green vegetables topped with toasted sesame seeds, oyster sauce, chilli and garlic), garlic chilli, scallion and their house sauce; whilst Paul, after eventually deciding against the fried fillet of sea bass with a tangy hot & sour sauce, set to work on their 'Weeping Tiger', a char-grilled, marinated Irish sirloin steak which he enjoyed immensely with Asian greens, tamarind, and a chilli & lime dipping sauce.
Desserts at Opium included coconut and passion fruit pannacotta with lychee, mango coulis and crumbed meringue...