Our Latest Great Place To Eat - La Cucina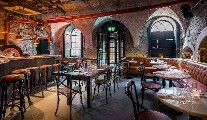 Tuesday 22 November 2016
The extravagantly gorgeous Farrier & Draper venue, incorporating La Cucina Italian Restaurant, in the Powerscourt Townhouse Centre has everything you could want in a great Italian, with a rustic, intimate decor featuring exposed brick walls and polished copper piping that runs overhead, not to mention their large open wood burning oven that is essential to their authentic 'Al Forno' style of cooking. As they proudly say themselves, their food is traditional in taste, modern in presentation, classic in technique and, where possible, of Irish provenance.
Brendan and I were returning from visiting cousins on the hill of Howth and had worked up something of an appetite from all that fresh air. On offer to start were dishes that were available in small portions, but could also be ordered as a larger main, including risotto cakes with porcini, truffle oil and buffalo mozzarella; tartare of sea-bream with red grape, a blood orange emulsion and prosciutto with heirloom tomatoes, buffalo mozzarella and preserved fig. Their polpette was with their own recipe of Irish beef and spicy pork, whilst their Bresaola, Alpine cured beef, was with rocket, pecorino & reggiano shavings, horseradish and some lemon thyme. Brendan quite fancied an antipasto plate, which arrived as a generous plate of tasty cured meats, cheese, marinated veg, cured anchovies and bread, which he really liked. I ordered the fritto misto and was delighted by the light ethereal batter that surrounded my prawns, soft shell crab, calamari and white bait zucchini - it brought me straight back to sitting on a terrace in Portofino.
For the mains, there was lots on offer from their pasta/risotto section, like linguine with crab, Roman parsley, cherry tomato, clam and chilli; gnocchi alla Sorrentina served with tomato sauce, smoked buffalo mozzarella and basil; as well as baked pumpkin cannelloni with ricotta, Gorgonzola and burnt sage butter. Also on offer for the mains was a very tempting slow braised neck of lamb with osso bucco, gremolata, wild garlic and aubergine, which I must try if it's still there on my next visit. Instead, I decided on a Crudo pizza, which was just perfect, with a thin crispy base and toppings of prosciutto and rucola (rocket). Fab! Brendan went for an Irish flank steak served with artichoke, rocket, some flat cap mushrooms, radish and aged balsamic vinegar, which he enjoyed along with a side of roast potato with wild herbs.