Our Latest Great Place To Eat - Soder + Ko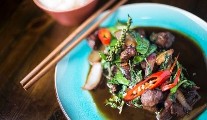 Thursday 17 November 2016
Soder + Ko is a sibling of Cafe en Seine and they have hopped on the current passion for the food and design of Scandinavia, coupled with our endless appetite for South East Asian food. Inspired, they say, by Scandinavian creativity, with loose references to South Great George's Street being traced back to 9thC Vikings. It's a fabulous space in a fabulous building, with well designed seating areas, a visible kitchen, and a mezzanine level for bands and entertainment.
Having thoroughly enjoyed myself in this happening hotspot on my first visit, I was eager to return, and, when friends Paul and Mary suggested meeting for lunch, I seized my opportunity. The menu, which offers an assortment of fantastic Asian Street foods, had changed since I was last here and now offers a variety of dishes under the headings of bites, buns and bowls, all with a helpful number-coded list of allergens. The Bites menu included xiao long bao, Shanghai lobster soup dumplings in a clear aromatic bisque; won ton soup with pork and ginger won tons; as well as the classic Peking duck with pancakes, julienned cucumber, scallion, and delicious hoisin sauce, available in ¼, ½ or whole quack. We kicked things off with some Bites to share, ordering gyoza, yakitori and scallops. The chargrilled yakitori skewers of marinated chicken were a hit with all in attendance as were the perfectly prepared scallops which were served with ceviche, lime, coriander, fennel and mandarin, but I think we could all agree that the gyoza, delicious pot stickers of crispy chicken, vegetable and prawn, were the best in show.
Moving on, Paul was in the mood for one of their Asian style steamed buns, available with pork, duck, kimchi or, Paul's choice of prawn, which arrived with srirracha mayo, pickled red onion and iceberg lettuce. Fresh and flavorsome he enjoyed it immensely. Mary and I, on the other hand, were busily assessing their Bowls menu, which featured Szechuan shrimp, tiger prawns with dry chilli, soy, green beans and caramelized onions; Kong pao chicken, free range with roast peanuts, onion and sweet pepper...