Our Latest Great Place To Stay & Eat - Kilronan Castle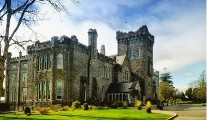 Tuesday 15 November 2016
An absolutely fabulous and totally romantic 4 Star Hotel. Kilronan comes from the Gaelic 'Cill Ronain', which means Ronan's Abbey, the ruins of which are close by, as well as St. Ronan's Holy Well, and which are both well worth visiting. St Ronan seems to have been an interesting chap who got around a bit because he also lived at Locronan in Brittany which I visited a few years ago. Locronan means the hermitage of Ronan and this is where his relics are. The original castle was built in the early 1800's and belonged to a Colonel King Tenison, who originated in Oxfordshire in the era of Edward I, but fought with the Irish Brigade in France on behalf of Bonnie Prince Charlie. They were a colourful lot and featured at the Battle of Waterloo and in the Boer War.
Enough of history. This place is absolutely beautiful from the magnificent parquet floors and panellled walls to the elegant drawingroom, with its uninterrupted views of Lough Meelagh. Just think of sitting here enjoying 3 tier afternoon tea by the blazing fire in the splendid Inglenook fireplace - a major architectural feature to enjoy and absorb. In fact it is striking that Kilronan retains its splendour including historical documents, artifacts, decorative stone and glass. It was just so sympathetically transformed into an elegant space to be enjoyed by us all.
Bedrooms and suites are lavishly and sumptuously furnished – magnificent fabrics have been used in the drapes and bed coverings to compliment the antique furnishings. We stayed in a room which opened out onto a divine little formal garden which is a lovely touch. Bathrooms are luxurious with marbled walls and floors.
When you have finished your day of country pursuits and exploration, or maybe that round of golf, you can recall the day's activities over a drink in the Dungeon Bar, or maybe an aperitif before dinner in the lovely Douglas Hyde Restaurant. Douglas Hyde was the first President of Ireland and he was born in Roscommon.