Our Latest Great Place to Eat - Marcel's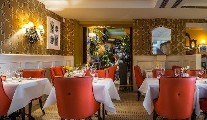 Monday 14 November 2016
Having reviewed Marcel's in its original location on Mary's Road and really liked its Franco Moroccan style colours and furnishings, I visited its new location on Merrion Row, in the buzzy heart of what's called the Golden Mile around St. Stephen's Green, with considerable enthusiasm. I wasn't disappointed, in fact, I liked it even more. It's basically divided into two sections with, on one side, a fantastic traditional Irish bar, complete with three snugs, named after patriots Wolfe Tone, Michael Collins and Robert Emmett. Marcel's Bar boasts one of the best Gin selections in Dublin – with over 60 Gins to chose from and a variety of fun Gin products such as Hendricks Teapots, Gin Teabags and a selection of garnishes, Marcel's Bar is a Gin Lovers Paradise. They also have an excellent bar menu with Franco Irish casual food such as creamy seafood chowder, pate, bangers and mash, beef & Guinness pie, moules frites, a rib-eye steak and confit duck leg.
The restaurant side has a totally difference ambiance being a lovely French brasserie style room. From the pretty blue and white Churchill plates, to the comfortable Hermes orange colour chairs which light up the room, there is a great vibe and comfortable feel here. For the al fresco fans, Marcel's also features three outdoor dining areas; to the front, to the rear on the ground floor and upstairs.
On my most recent excursion, their A La Carte menu offered dishes including sautéed foie gras with poached pear, walnut and toasted brioche; dry aged beef carpaccio with pickled Shmanji mushrooms, horseradish and rocket; or Caprese Burrata with grilled flatbread. Paul quite fancied the lobster salad, a tasty number with pickled summer vegetables and celeriac, whilst I opted for a ham hock and chicken terrine with gribiche, pickled vegetables and toasted sourdough, which was full flavoured and rich.
Moving onto the mains, roast rump of Slaney Valley lamb was with garlic mousseline, spinach, red pepper, crispy lamb breast and a rosemary jus, whilst a rib of milk fed veal was with herb polenta, baby spinach, forest mushroom and veal jus...