Our Latest Great Place To Eat - Le Plancha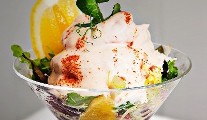 Tuesday 08 November 2016
Set on the first floor over a supermarket in the heart of the village, and it's under the baton of Andrew Lawlor and Eimear Brannelly who have relocated from Blackrock, where they've been operating successfully for the past five years. The atmosphere and décor at La Plancha is very welcoming, with the walls exuding a Farrow & Ball feel with a warmer chic greeny grey and interesting lighting has been added, all creating a softer edge.
It's what one might call a popular Mediterranean style menu with a selection of steaks, veal and pork grilled on the eponymous cast iron plancha. It covers burgers, wings, pasta and fish & chips, however there's more to Lawlor's food, because each dish is classically paired in a contemporary way; the bread will be brioche, the chutney will be fig, the roasted duck breast will have confit leg, the calamari will be with confit fennel as well as chill jam, and they also do really good fish specials.
The starter selection included French onion soup; chicken liver parfait with fig chutney and Melba toast; goat's cheese and beetroot salad with orange, caramelised walnuts and sherry vinegar dressing, while a king prawn crostini also featured. Mary had the aforementioned calamari fritto, a good plate of crispy rings sitting on a drizzle of chilli jam with the pickled fennel and radish wafers, both of which added a good sharp contrast to the squid. I meanwhile loved my starter of sauteed 'fancy' mushrooms, piled high on toasted brioche and topped with a crispy egg and cep cream. That will defo be one of my regular dishes when I visit Le Plancha.
Mains included clam and mussel linguine; gnocchi with seasonal mushrooms; and chicken and chorizo paella (add seafood with a supplement option). Mary was delighted with her classic burger, more particularly when she was told they make their own burgers fresh in-house so she was able to ask for it not to be overdone. I only had eyes for the fish specials, both of which were interesting and enticing. Fillet of plaice a la plancha, served with saffron poached potatoes, samphire and brown shrimp mash, sounded delicious, but grilled wild halibut finally won the toss. A delicious long tranch of perfect poisson, lightly browned on top, napped with a beurre blanc, was surrounded by a quenelle of fine truffle mash, on one side, and a mix of courgette, broccoli and samphire on the other.