Our Latest Great Place To Eat - The Green Hen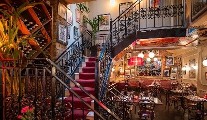 Friday 04 November 2016
It has a hugely loyal foodie following and it's easy to understand why. I often head in there to meet girlfriends, both for lunch and in the evenings, after we've shopped 'til we dropped for a bit of escapism.
With a lavishly stocked bar to the left as you enter, walls covered in iconic French pictures, posters and photos, bentwood chairs and tables; it's like being in the middle of Paris - you almost expect to see the legendary Juliet Greco in a corner smoking a Gitane, or Johnny Halliday rocking up with a glamorous female on his arm. The larger tables are to the back of the room, along with a banquette across the back wall above which hangs an ornate gold framed mirror sporting the specials of the day. The upstairs dining room is also lovely, perfect for a romantic outing, with a tasteful faded French Chateaux style, with grey panelled walls.
On my most recent visit, starters included a goats cheese and beetroot salad with salted baked beets, 5-mile town goat's cheese, radish and walnuts; gin and grapefruit cured mackerel with compressed cucumber, Yuzu gel, horseradish creme fraiche and pickles; as well as a charcuterie plate of cured meats with smoked almonds, olives and homemade breads. I kicked off with a fab tuna carpaccio with ponzu, avocado, dill and compressed watermelon, whilst Brendan chose the heirloom tomato salad with housemade ricotta, basil and parmesan sable, which he found fresh and very very tasty.
On offer for the mains were a whole host of tempting dishes including roast duck breast with Szechuan pepper, salt baked celeriac, chicory, capers and rosti potato; hand rolled parmesan gnocchi of ratatouille, goats cheese, baby spinach and basil; not to mention a supreme of free range chicken with smoked potato, sweetcorn, Napa cabbage, scallion and tarragon cream. Their Kasseler pork chop was with wholegrain potato, Puy lentils, saurkraut and apple, whilst a roast lamb rump 'Nicoise' was with confit potato, fine beans, radish, salsa verde, black olive and an anchovy aioli. I decided to try roast hake fillet and was sure glad that I did, when the delicious tranch of poisson arrived with its white bean cassoulet, gubeen chorizo, mussels and brown shrimp. I was in fishy heaven. Meanwhile, Brendan had chosen 10oz Irish Hereford rib eye steak with bearnaise sauce, watercress and a side of fries, and was more than happy with the meaty 'steak frites' placed in front him.