Our Latest Great Place To Eat - McNean House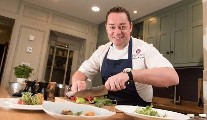 Wednesday 02 November 2016
Behind Neven Maguire's smiling easy personality is a man with determination and extraordinary skill who turned a remote village in the farthest point of Co. Cavan into a gourmet destination, drawing people from here and abroad for his amazing food.
Like many a one before him, Neven Maguire learned to cook alongside his mother when he was but a boy, in what was then their MacNean Bistro in Blacklion. It was the start of something great, as he then went on to formally train and also work in some of the world's top restaurants including the 3 Michelin star Arzak in Spain's San Sebastian. He has written 12 cookery books, won countless awards, and is constantly on our TV screens.
Having taken over the reins in 2001, the MacNean House & Restaurant of today always reminds me of a little bit of France in Ireland. The stone fronted 3-story building with Georgian paned windows could as easily be in the Dordogne. The interior is everything one expects of a high-end restaurant, a tres chic lounge and bar area, beautiful parquet flooring, elegant Empire style furniture, mirrors and chandeliers, meticulous napery and fine china. There are also exquisitely decorated bedrooms should you wish to stay overnight.
Dining is by way of a fantastic Prestige Tasting Menu, which saw us kicking off with a chestnut veloute followed by rabbit kataifi and oriental tuna. You we had a choice of barbecued breast of quail with stuffed ballotine leg, balsamic lentils and lemon powder, or seared partridge breast on toasted brioche with a game and foie gras terrine.
Moving on, scallops were paired with pork cheek and textures of carrot, while sea bass has crab fregola pasta and herb veloute. Each element in these dishes was exquisitely prepared and presented, colourful and exciting, a taste sensation in every bite. When it came to mains, fillet of dry aged beef was with braised feather blade and oxtail gel while seared breast of Thornhill duck had a confit leg spring roll and quinoa. Halibut, that wonderful meaty fish, was with a basil risotto and shellfish veloute. Tarte Tatin with pannacotta and apple sorbet was a spectacular treat as was Chocolate Cremeux consisting of a wonderful caramel mousse, peanut and coco nib tuille and peanut ice cream.