Our Latest Great Place to Eat - East Side Tavern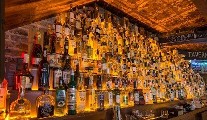 Friday 28 October 2016
They have retained the classic Irish bar style, but it has received a fantastic makeover with some contemporary twists including a feature display of some 250 whiskeys and spirits from around the world and they are stressing that this is a 'bar & kitchen', which besides from being a great place to eat, offers patrons some of the best craft beers and bespoke cocktails around.
On my most recent visit, Brendan and myself were famished after a hectic afternoon in the city centre, and couldn't wait to peruse their fab dinner menu. Unfortunately my fave corner table was occupied, but we were happy to settle for a very nice table by the window.
Brendan kicked things off with a pork sausage starter served with spinach, poached egg and apple sauce and was delighted with his choice, whilst I, after a little hemming and hawing, set aside my thoughts of a mozzarella and heirloom tomato salad in favour of a rather tasty mound of mussels served with a lemongrass and coriander volute, chilli, and some crispy garlic bread.
Moving onto the mains, there was lots of great dishes vying for our attention, such as homemade gnocchi with confit tomato, courgettes, basil pesto and mozzarella; duck breast served with pak choi, roasted granola and chunky wedges; as well as a 9oz striploin steak with pepper sauce mushroom pesto and fries. I stuck with poisson, opting for a delicious plate of perfectly prepared pan-fried salmon, which arrived with a toothsome ratatouille and some roasted garlic potatoes. Brendan happily went for their East Side beef burger, an impressive hunk of beef in a bun with cheddar, tomato relish, bacon, baby gem and a side of fries.