Our Latest Great Place to Eat - Cox's Steakhouse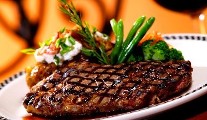 Wednesday 26 October 2016
With the feel of a traditional Irish pub, but all the updates and modernity that we creatures of comfort hope for, the atmosphere at Cox's is welcoming and fresh, and a great place for a meal be it corporate, intimate, or for the whole family. The restaurant itself is spacious and open, and, with soft tones and lighting, and an attractive red and gold colour scheme offset by the polished wooden floors.
When we were there, starters included popular dishes such as spicy chicken wings with a tossed salad and a sweet chilli dipping sauce; deep fried Brie served with a mixed leaf salad and redcurrant coulis; as well as oriental duck spring rolls in filo pastry, served with dressed mixed leaves and a sweet chilli dip. I thought about trying their golden fried garlic mushrooms, but at the last moment went for their Irish smoked salmon and shrimp salad, which was fresh and delicious with rosettes of the smoked fishy being surrounded by Marie Rose sauce, whilst the cold water shrimp were flavoured with a lemon twist and served on a dressed garden salad. The better half, Brendan, across the table, opted for their Cox's chicken Caesar salad, which, he assured me, was very good.
The mains menu at Cox's is extensive, with an excellent selection of steaks that included a 14oz sirloin, an 8oz fillet with sautéed mushrooms, onions and French fries; along with options like pan fried lamb cutlets or beef Stromboli in a wholegrain mushroom sauce. Their poultry dishes included things like chicken Maryland, chicken breast served with grilled tomato, pineapple and banana fritters on creamed potato; a warm Cajun chicken salad with coleslaw, potato salad, mixed leaf salad and garlic dip; as well as an escalope of chicken served in a bed of champ with a creamy sauce of smoked bacon, mushrooms and herbs. From the seas, they had offerings of deep fried fillet of plaice, beer battered fillet of cod; not to mention crispy filo wrapped king prawns with a selection of homemade salads and a garlic dip. They also do a selection of International dishes, like chicken curry, pasta carbonara or beef stir fry, as well as some traditional Irish dishes like roast stuffed chicken and ham with seasonal vegetables and creamed potato, or a roast half crispy duck served on a bed of julienne vegetables.