Our Latest Great Place To Eat - Chandpur Indian Restaurant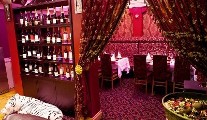 Tuesday 25 October 2016
On a recent trip North West, himself and I ventured into Chandpur Indian restaurant in Donegal Town and were absolutely charmed by the staff, food and atmosphere that greeted us. The room, which is on the first floor, is bright and atmospheric with lots of pinks, reds and yellows making the whole place feel lively and engaging, and adding to the atmosphere created by the Indian style decor.
Starters included favourites like onion bhajis or savoury samosas, alongside some less known but very tasty sounding appetisers such as prawn puri, a south Asian appetizer of prawns with tomato puree, ginger, garlic and chopped onions served with a lightly puffed; or shami kebab, finely minced meat mixed with a variety of herbs and spices, and fried in butter. I decided to go for their Meghna special, which was a cracking pairing of chicken tikka and minced lamb, superbly spiced, cooked in onion, mango, lemon juice and accompanied by a salad. Brendan went for Chandpur king prawns, a sumptuous dish of the fresh water crustaceans, all the way from Bangladesh, cooked with coconut powder, onion, tomato, cream and their chef's special spices, which was absolutely delicious.
For the mains, there were lots of options, with a tandoori specials menu offering a variety of dishes prepared in the famous tandoor oven. Along with some old style favourites like an Indian Railway Curry, which, as the name hints, was a dish served to first class diners of the famous Indian railways during the Raj. On Chandpur's curry menu, you can find all of the usual suspects, from Korma to Bhuna to Balti to Sag and all the way up to the spicy heights of a classic Vindaloo, with all dishes available with chicken, chicken tikka, lamb or king prawn. They also offer a Biryani menu along with a selection of vegetarian dishes available as a full mains or just as a side.