Our Latest Great Place To Eat - Eatokyo Japanese Restaurant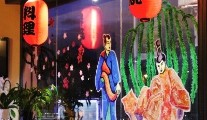 Thursday 20 October 2016
Close to Merchants Arch and the Ha'penny Bridge, Eatokyo is the venture of Jay who will be familiar to regulars of Musashi on Capel Street, where he has been working for the past four years. It was following a meeting in town, that I rolled up with my friend Paul for a late lunch cum early dinner, not always an easy thing to find, and hit on a good thing, for Eatokyo's lunch special menu runs from 12pm–5pm, alongside the regular all day menu, so we cherry picked from both. It's a long room, located on a corner, with big plate glass windows, artfully decorated with Japanese geishas and pretty cherry blossom.
Having bagged ourselves a nice table by the window, we took in the menus, which are very comprehensive. The Lunch Special was great value with various stirfried, noodle, or curry dishes as well as a Bento Box that changes daily with one of the main dishes from the menu, plus two pieces of sushi and a side of miso and rice.
We wanted to see how they performed when it came, shall we say, to their signature dishes, but where to start! We ordered three very different types of little dishes to share - sushi, gyoza and tempura. The sushi selection was enormous, big rolls, small rolls, combination plates, and very clearly laid out and explained. There was Ama Ebi – sweet shrimps, Unagi – eel, Tako – octopus, Inari – fried egg, tuna, salmon, avocado, crab, but they were on a winner when I spotted a quartet of soft shell crab tempura futomaki – big sushi rolls containing the delicious, not often seen, crispy crustacean. Artfully presented, sprinkled with red fish eggs, they were more than a mouthful, served with pickled ginger and wasabi. Yasai Gyoza were six deliciously light crescent shaped vegetable dumplings, which you could also have filled with prawn, garlic and chives; deep fried chicken and vegetable, or with a blend of pork and vegetables. Served with a tasty gyoza dipping sauce, they were very tasty and a far cry from the battledress versions I have had on many an occasion. Our third dish, Ebi Tempura were fabulous big prawns, with their tails on, served standing up. The tempura batter was so light and crunchy, before you hit the soft texture of the perfectly cooked prawns. They were a real treat.