Our Latest Great Place To Eat - Mimosa Bar De Tapas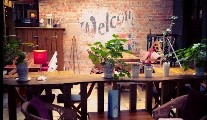 Monday 17 October 2016
Owners Oscar and Catriona say that when they set up shop they didn't want Mimosa to be another stuffy restaurant, but instead it would be a place that's welcoming and relaxing for everyone, where you order your tapas whenever you like throughout your visit, and then they are served up to you whenever each dish is ready, not in a particular order. The décor here is warm and familiar, with lots of exposed woodwork lending to the almost at home feel of the room.
The menu is broken up into sections of Nibbles, Tapas and To Finish, with the nibbles section being filled with tasty bites such as a homemade black olive tapenade with toasted ciabatta bread; a mini cheeseboard served quince jelly and homemade apple chutney; as well as sourdough bread, toasted and accompanied by extra virgin olive oil and a balsamic dip.
The main tapas section, on my visit, had lots to choose from with sub headings of 'Fishy', 'Meaty' and 'Veggie'. On the Fishy side of things were dishes like crab Arancini with lemon tartare; hake ceviche with lime and coriander and toasted ciabatta; or tandoori tiger prawns, charred and served with a cucumber raita. From the Meaty selection there were plenty of things to tease the taste buds, such as an Irish angus beef short rib, slow roasted & smoked, and served in a bourbon marinade; slow roasted Mexican style pulled pork; not to mention duck breast glazed with honey and soy on pickled cabbage. The Veggie section offered plenty to satisfy the herbivores, with dishes like Haloumi cheese & veg griddled on onion bread; sweet potato fries; or falafel with roasted carrot hummus.
Their lamb tacos with grated cheddar, yoghurt and Feta cheese sounded great, but I decided to try the homemade chicken liver and port pate, accompanied by cranberries and a topping of pistachio nuts, along with an order of delicious crispy dumplings with roasted squash and feta and burnt butter & sage. Fab! Brendan opted instead to sample a kangaroo fillet, something we've been seeing more of lately, which was on offer with a set of chargrilled mushroom skewers. More than pleased with his meaty selection, he cleared his plate in quick order and decided he'd pick at an order of delicious sweet potato fries, which he was kind enough to share.