Our Latest Great Place to Eat - Girl and the Goose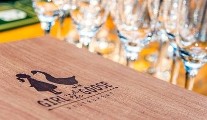 Thursday 13 October 2016
I've never met Mr. Sabik, nor seen him, but I'd tried his food when he was previously operating Vaughan's Eatery in Terenure, and I knew 
it to be good, and good value!
 So, I sought out his new eatery, the Girl and the Goose, over Crowes pub in Ballsbridge. Sabik's influences are decidedly French, having originally worked alongside French chef Olivier Quenet at La Maison in Castle Market and at Vaughan's a few years back, before subsequently taking it over when Quenet departed from that operation.
The decor is contemporary and very comfortable and we were looked after all evening by a very helpful and pleasant girl. Mary and I agreed we'd happily have had any of the starters
— which isn't always the case! Chicken and duck liver parfait was served with a pear and saffron chutney and a cranberry sauce, while pan-seared scallops were paired with fennel, sweetcorn, candied hazelnuts, cauliflower and pancetta. Pan-fried mackerel also had the pear and saffron chutney but with asparagus and lemongrass sauce, while a smoked salmon salad was with sauce vierge, cucumber, horseradish, avocado and grapefruit.
Mary went for the three-course 'Neighbourhood Menu' and started with an asparagus, barley and pine nut risotto, which had
 a delicious Asian tweak by way 
of green peas, spring onions 
and sesame oil. I went a la carte and began with a superb goat's cheese brulee, offset with medallions and cubes of different varieties of beetroot, drizzled with a black cherry jus, chives, radish, and sourdough toast.
Mains include slow-cooked lamb shank, hake, Irish beef and Guinness pie, homemade steak burger, monkfish and a trio of salads, including prawns with chilli, lime and garlic aioli, and
a halloumi salad. Mary's confit duck leg was absolutely superb
— tender and juicy on the inside, and crispy on the outside. It came with braised red cabbage, beetroot and black cherry puree, poached salsify, fondant potato and rosemary and red wine jus.