Restaurant Review - The Restaurant by Johnnie Cooke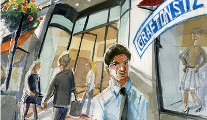 Wednesday 12 October 2016
It's almost 25 years since Johnnie Cooke first lit up the Dublin dining scene with his Cooke's Cafe on the corner of South William Street and Castle Market, which soon became the haunt for the rock
'n roll who's who of Irish society. Over the years, South William Street changed from being a street of fashion wholesalers to a street of bars and hip eateries, which today are frequented by crowds of cool cats and hot dogs who were, as they say, but a twinkle in their parent's eyes when Johnnie first hit the scene. Cooke's Cafe rocked on for 16 years until 2008, when the fat cats and high flyers turned to the value menus that were outdoing one another all over the city. He is now, however, back in the big smoke with The Restaurant & Bar by Johnnie Cooke at Brown Thomas, where no doubt he'll encounter much of his old clientele seeking refreshment having trawled the store for the latest designer must haves.
The menu is Johnnie's traditional Cal-Ital style which, given its in-store location,
now also caters for a broader church. There's a breakfast menu incorporating porridge with cinnamon, dates and honey, or Irish Mist, Eggs Benedict, the Full Irish, as well as a bakery selection. A wide daytime menu runs up to 4pm, when a Tapas menu swings in until closing and, of course, there's a great bar with cocktails to beat the band, which the Edinas and Patsys will absolutely adore. Salads (€9.50-€18.95) include Nicoise; Cobb; Caesar and Crab while sharing platters (€25-€36) cover Irish Seafood, Spanish
meat and cheeses, and an Italian plate with or without meats. A threesome of seafood (€10.50- €24.50) covers calamari, the ubiquitous hake and "Cioppino",
a San Fran style fisherman's stew, while meats (€15.95-€28.50) include a burger, and a dry aged sirloin steak.
"Try the Beef Carpaccio (€10.50) from 'Cooke's Specialita', I reckon it will be good". I said to my friend Paul. It was! Fine fine slices of raw marinated beef, arranged like a flower, were lightly drizzled with truffle mayo, a dusting of black pepper, and centred with arugula (rocket), radicchio, shaved Parmesan, cherry tomatoes and grilled ciabbata. Castletownbere Crab (€11.50), proved a tian of fresh crab and avocado puree topped with mango cubes, surrounded by an honour guard of standing asparagus spears – so fresh and colourful. Paul followed up with chicken Milanese (€16.75), delicious lightly-crumbed chicken breast with a bowl of summer salad and Romesco sauce, which he loved. I went down the road to Morocco with spiced lamb (€26.95), a substantial dish of loin, chargrilled and served in tranches, interspersed with golden sultanas, peas, almonds, chermoula, orange and cumin glazed baby carrots, and a tian of freekah salad. Delicious, but you would need
to be hungry. Frankly, if I wasn't reviewing, the carpaccio and crab starters would have been perfect for a lovely light lunch of the 'small plate' genre with perhaps
a side of frites or salad. Having said that, it was good to see a lady, toute seule, only short of licking her soup plate, with an intensity I haven't seen for a long time, as she moved on enthusiastically to her main course.
The waiter did his best to tempt us with enticing desserts but his efforts were in vain as we were 'hard aground'. All of the wines were available by the glass (€7.50- €11.50), so, with two glasses of Cave de Berticot IGT Sauvignon Blanc for Paul (€7.50 each), two bottles of Aqua Panna for me (€5.95 each) and optional service, our bill came to €102.60.
The Restaurant by Johnnie Cooke,

Brown Thomas,
 Grafton Street,
Dublin 2.

Tel: (01) 605-6666
brownthomas.com
lucindaosullivan.com
FIRST PUBLISHED IN THE SUNDAY INDEPENDENT