Restaurant Review - Rosa Madre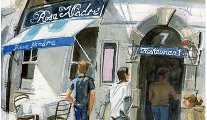 Monday 10 October 2016
How long had it been since I'd seen a wet fish counter in a restaurant, I wondered, as I looked at the selection of fish of
all shapes and sizes; their shinylooked at the selection of fish of
all shapes and sizes; their shiny skins and bright eyes enticing
me. Then I began to wonder how many places here actually bake fish, entombed in a crust of salt, and present it at the table for all the theatrical drama of cracking 
it open and setting the deliciously moist results free. I could have been in Portofino or Rome, or perhaps even an Italian stalwart in Soho, but we were in the narrow streets of Temple Bar in Rosa Madre, a new Italian restaurant owned by Luca De Marzio.
People love Italian food, but what we mostly have here are pizza and pasta places (some very good little authentic places too); others are veritable fast food cash cows sloshing out tons and tons of red sauce. This is why I'm so glad that De Marzio didn't take the easy way out with his new eatery. Instead, he has gone for the higher end, with an authentic Italian restaurant of style and good
food, prepared by chef Francesco Mambelli who hails from Pesaro on Italy's Adriatic coast.
Now, I don't want to frighten the horses, as it were, because there's lots for the fella who likes his bruschetta plain, mama's meatballs, or a rib eye steak, but it's great to see starters
(€8-€12) include crostini with really good juicy capers and 
lardo di colonnata; baby octopus; carpaccio of seabass or beef; oysters; and pan-fried garlic squid and king prawns served with spicy s p i n a c h We would have been happy with any of those had the ebullient Luca not enticed us with shellfish specials. Paul fell for finger-licking prawns (€13), split down the middle, grilled with butter and garlic, and served fan-like on
a big colourful Mediterranean plate, while I had a threesome of scallops (€14), sprinkled with fine breadcrumbs, and baked in their shells. Who doesn't love this classical Italian food, simply cooked, with no tiering, or hiding under forests? It's timeless, all about flavour, and just delicious. Pastas and mains (€12-€25) included homemade ricotta and black truffle ravioli, in a butter and sage sauce, while paccheri pasta is served with Guanciale (pancetta), Nduji (soft spicy pork sausage), fresh tomatoes, basil and Pecorino. Gnocchi comes with Atlantic prawns, tomato sauce
and Pecorino, while a risotto of carnaroli rice is served with cream of butternut squash and fresh burrata. The fresh fish of the day (€5 per 100g) are cooked three ways: grilled, oven baked, or the aforementioned salt crusted — you choose your fish and cooking style. The same applies to a whole lobster (€8 per 100g) and Tomahawk ribeye on the bone (€6 per100g with a minimum of 1kg). The big beefers will love that.
Happily, Paul's tastes were more simple and he loved his scaloppina allimone (€15), three escalopes 
of pork, pan-fried with a light lemon sauce, served with sauteed spinach and a side of oven-baked baby potatoes(€4). Tonnarelli all'Astice (€25) for me didn't disappoint either, having a half lobster chopped and tossed in the pasta with a delicious light cherry tomato sauce.
We finished with La Casearia Carpenedo Blue 61(€8.50), a wonderfully pungent blue cheese from Treviso. Washed in red wine and topped with cranberries, Blue 61is a major award-winner —you will also find it in the posh Hotel Meurice in Paris — but you only have to go to Crow Street!
With a bottle of superb fruity Arboreo Pecorino 2015 (€33), bottled water (€4.50) and optional service our bill came to €130.
A pieni voti —full marks.
Rosa Madre, 7 Crow Street, Dublin 2. 
Tel: (01) 551-1206 rosamadre.ie
lucindaosullivan.com

FIRST PUBLISHED IN THE SUNDAY INDEPENDENT