Restaurant Review - Greenes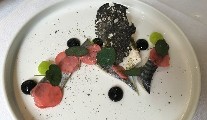 Tuesday 04 October 2016
With the corporate world not daring to be seen wining and dining in public during the lean years, the more formal style
lunch trade disappeared, which was a huge loss to high-end restaurants. However, it's making an appearance again, particularly in Dublin. Lunching is a great way to try Michelin and other top spots without breaking the bank. You mightn't get the sliver of foie gras or the sprinkle of caviar – but you get to experience the level of cooking, presentation and service.
Spotting recently that Greenes Restaurant at Hotel Isaacs in Cork have just introduced a 2/3-course lunch at €22/€25, I popped along with my friend Rena to give it a whirl. The food here has always been good, but the arrival of Bryan McCarthy as Head Chef about eighteen months ago raised the bar considerably. A native of the beautiful village of Glandore in West Cork, McCarthy was previously at Springfort Hall in Mallow. Though we've seen a lot of ambitious young chefs in Dublin lately, there hadn't been a lot happening at the finer end of Cork's dining scene. Sitting around on the judging panels for the major awards, as I do, McCarthy's name consistently popped up when it came to Munster. He won the RAI's Best Chef in Cork 2015 and, more recently, Greenes took the Food & Wine Award 2016 for Best Restaurant in Munster, with McCarthy coming in second to Wade Murphy of 1826 Adare as Best Chef Munster.
Greenes has the unusual visual aspect of a 60ft rocky waterfall right outside its window. The menu offered a quartet of starters, mains and desserts, as well as a 5-course Tasting Menu at €49.50 per person (Thursday to Sunday – available for the whole table only). Sticking to 3 courses, we were first brought a zingy lychee and lime espuma amuse, a frothy foam sprinkled with green tea powder.
Rena's starter of pork belly and black pudding was contrasted with the light fresh flavours and textures of apple, celeriac and cider, all sitting perfectly on a black plate. I had mackerel and crab, again beautifully presented, with slivers of mackerel highlighted by glistening blobs of squid ink and cucumber purees, a quenelle of crab, nasturtium leaves and radish wafers. Mains included braised feather blade of beef with mushroom, celeriac, onion and kale, or a chicken
dish. A substantial, deliciously- flavoured, Ballyhoura mushroom risotto, spiked with Coolea cheese, garlic scapes (flowering buds), and dulce peppers, was topped off with purple potato crisps,
and Rena loved it. I chose the
fish of the day – hake with sea vegetables and a dashi cream. The hake was perfectly cooked with a nice crispy skin, but they were out of samphire, and there was nothing very distinctive about the greenery and green beans beneath it, or the dashi cream, so that was fine but a bit bland. We also had a side of baby potatoes (€2).
We finished off on a high note with sublime artful presentations of chocolate pecan cremeux tart with barley, caramel popcorn
and salt, and a woodruff cream pudding with raspberry, pistachio, iced coffee, buttermilk, honey and white chocolate.
They have a good wine list with a lot of wines available by the glass and 500ml carafes, which
I always love to see. So, with a carafe of Marlborough, Hunky Dory, Sauvignon Blanc 2015 (€23), bottled water (€4.80) and service, our bill came to €87.30. As it transpired, McCarthy wasn't at the stove on our visit, but his team held up well. It was great value and I would heartily recommend a visit.
Greenes
 48 MacCurtain Street, Cork.
Tel: (021) 455-2279 greenesrestaurant.com
lucindaosullivan.com
FIRST PUBLISHED IN THE SUNDAY INDEPENDENT