Restaurant Review - Fishbone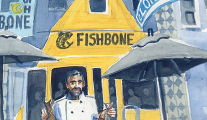 Tuesday 06 September 2016
If there's one thing the French do very well, be it a restaurant, a boulangerie or any other type of shop, it's that they make instant eye contact the minute you
cross their doorstep, and say 'Bonjour Madame'. They may not be grinning from ear to ear but they've recognised your presence, and you're more likely to engage with them and maybe make a purchase.

I thought of this as my friend Rena and I stood, just inside the door of the new Fishbone in Clontarf, for at least 10 minutes, totally ignored by any of the seven staff on the floor. One chap walked down and behind the counter with a long droopy mop, while another had a cleaning spray in his hand. Another actually moved behind us, putting cutlery on a table, crossed over in front of us to deal with two people at the till, and then a phone call, as we stood like two spare you-know-whats. All it needed was an 'I'll be with you in a minute' or a 'Sorry to keep you waiting' — and the place was only half-full at the time. Eventually, the same chap came to us and said he'd pass us over to 'He who was in charge', who'd just come in. But of course, 'he' had something else to do behind the counter before he came over!

Offering us a table in direct line of the door, through which there was a howling gale every time it opened, I asked could we sit behind the door where there were two small tables pushed together. That wasn't possible, although they later gave it to another twosome and then asked if we'd like to move (squash) in beside them! We sat down at the designated table and watched, fascinated, as menus were given to a table of birthday-celebrating girlettes next door, who'd arrived after us, while we were again left hanging until we finally just had to ask for them. We felt invisible. Fishbone is owned by the people behind the nearby popular Bay Restaurant, which I rather like, so it was a pity that the front of house was so disorganised and chaotic, because the kitchen team were doing their job, and the food, when it eventually arrived, was really good. The vibe here is very loud music, lots of high-stool tables, blackboards with daily specials, cocktails and a calorie count on the menu!

You can have oysters by the half-dozen from €12 or Howth lobster at €7 per 100g. 'Bite size', 'big haul' and 'sea free' sections sported a great selection, from chowder to Lambay crab claws, or prawns pil pil to a shellfish pot, fish 'n' chips, open seafood lasagne, striploin steak, and monkfish and scampi bites, ranging in price from €8-€26.
A threesome of seared scallops (€12), complete with their roe, were absolutely excellent, served with minted peas and a pea puree, while a crab cannelloni (€12) for Rena with cantaloupe melon, lime and mint, was fresh and light. She followed up with a Howth lobster roll 'n' chips (€16) which had cos lettuce and Sriracha mayo, all of which she loved. I had a cracker of a grill special: red mullet (€18) — two fish, liberally anointed with my choice of a spicy Moroccan chermoula, plus a choice of sides; a tasty bowl of curried sweet-potato puree topped with crisp sprouting broccoli.

The door was proving unbearable for Rena, who had
her back to it, so we passed on desserts. With a glass of Mosel, Weingut H. Boch Trocken Riesling 2015 (€8) for Rena, and filtered water (€1) for me, our bill was €67.

There isn't a lot of competition in the area but they can't rest
 on their laurels. There's an old saying: "Fish goes bad from the head down", so the service needs to be grasped here by the neck and this fish's backbone stiffened.

Fishbone,
324 Clontarf Road,
Dublin 3.
Tel: (01) 536-9066
fishbone.ie

lucindaosullivan.com
FIRST PUBLISHED IN THE SUNDAY INDEPENDENT