Our Latest Great Place To Eat - The Clonskeagh House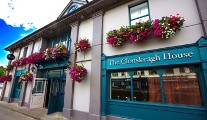 Thursday 01 September 2016
It's not that I was having a When Harry Met Sally moment 
in a posh fancy restaurant, I 
was, in fact, in a new gastropub, Clonskeagh House, whose self-effacing Twitter mantra is "Pub
 & Dining – nothing fancy, just honest grub."
Gareth 'Gaz' Smith is the chef patron. He likes food, knows what good food tastes like, and so he delivers, be it simple or fancy fare. Originally from Wexford, over the years he has been in the Chart House in Dingle, Chapter One,
the former Restaurant 1014 in Clontarf, and an educational stage at The Ledbury in London. He also spent six years in Vienna between O'Connor's Old Oak and Charlie P's, the only Irish pub in the world with a Gault & Millau 'Haube'.
Starters included Dublin Bay seafood chowder; chicken liver and foie gras pate; Wicklow Pier crab claw and langoustine gratin; and a ballotine of chicken incorporating a French boudin noir – the sort 
of dish that distinguishes a gastropub from a pub! We'd both kicked off with specials of the evening, me 
with a warm octopus salad and Rena with a starter portion of the house seafood pot. "Is the octopus salad just breaded calamari rings?", I asked our delightful foreign waitress. I should have known better. "No, no," she replied, "It's the arms." Anyway,
 I went for "the arms", a lovely warm salad with curls of octopus resting on chargrilled flatbread and mixed leaves with a sweet sour flavoured sauce. The seafood pot gave of its bounty on a large pasta plate, including lemon sole, prawns, mussels, cod and chorizo, in a wonderfully flavoured light chilli and lemon butter.
For the mains, there was lots to choose from, and Smith has cleverly defined his pub classics separately – things that everybody loves – including a rib-eye burger with Ballymaloe Relish, 3 cheese rarebit, sesame bun and triple cooked chips. But it's with dishes such as a duo of rare breed Mangalitza pork fillet en croute with homemade sausage meat, or indeed Rena's traditional French melt-in the-mouth slow-cooked daube of beef, with a parmesan and truffle mash, where Smith's cooking shines.