Our Latest Great Place To Stay & Eat – Cahernane House Hotel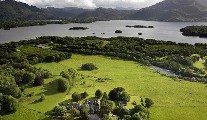 Tuesday 30 August 2016
This gorgeous old historic house is at the end of a long tree-lined drive sheltered away from the world yet close to everything, just like being on ones own private estate. The Earls of Pembroke came to Ireland in 1656. One brother was given the great Muckross Estate and the other the smaller property of Currens and Cahernane, and they maintained these magnificent Estates for five generations. In 1877 the original house was considered outmoded, and so it was torn down and replaced with the beautiful house which stands today.
Located on the Kenmare road just 1.5kms from Killarney town centre, Cahernane House has undergone a magnificent but sympathetic refurbishment providing now the ultimate in luxury, including suites and junior suites, and superb modern rooms in a new section.
The main house offers 12 beautiful guest rooms, which boast many of the house's original features from ceiling beams to fireplaces, each uniquely and stylishly decorated. If you really want to push the boat out, check out their Herbert Suite, which is fabulous in itself and for the incredible garden and mountain views it offers.
At their fab Herbert Restaurant, Head Chef Paul O'Connor offers diners a really great selection of delectable high-end dishes to treat their taste buds, with the focus being on the best of local and seasonal produce. Mains offer an assortment of alluring options with a confit of Killorglin pork belly being served alongside prawn cannelloni, spinach and a calvados cream; pan seared cod with Jerusalem artichoke, hazelnuts, raisins and brandade; and, for the veg-heads, a scrumptious sounding vegetable Wellington with wild mushroom, asparagus and a tomato compote. Roast rabbit saddle is with wild mushrooms, vanilla risotto, Muscat grapes and carrot, while braised beef feather blade is cooked to perfection along with pearl onions, grey oysters, a celeriac puree and a savoury jus.
If you're after a more casual daytime bite with friends or family, be sure to check out their terrific Cellar Bar, located in the basement of the hotel and occupying the original wine cellar of this historical house. It's cosy and warm, and the atmosphere here is so welcoming that it can be tough to leave.