Our Latest Great Place To Eat – Cream Room Curry House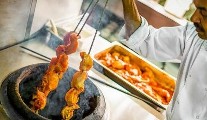 Tuesday 16 August 2016
At the Cream Room, Chef Lekhraj Kapil and his kitchen team produce dishes that delicately fuse the richness and flavour of authentic Indian cooking across a variety of regions in India. The restaurant itself is modern and spacious with polished wood floors and paneling throughout, rich purple leatherette seating, and some simple ornamental touches creating an atmosphere without being overpowering.
On my visit, starters included Aloo Bonda, fried potato dumplings with mustard, gram lentil and fresh curry leaves; Achari Tikka chicken chargrilled and marinated with yoghurt, garlic and pickled spices served in a poppadum bowl; as well as seekh kebabs of hand pounded lamb mince with fragrant spices, cooked on skewers and served with carrot pachadi. Apart from the Indian food, they also have a European menu, to cater for all tastes, with starters like Atlantic seafood chowder; a grilled chicken Caesar salad; or tomato and goats cheese bruschetta. I decided to try Mahi Tikka, tasty cubes of tender Tilapia fish, marinated in mustard, chili, garlic and grilled in a tandoor oven, which was Ab Fab with red onion, avocado and cherry tomatoes, whilst across the table friend Rena went for the Karara Jhinga, a dish of stir fried tiger prawns served with shallots, scallions, lime, peppers & chili, drizzled in a ginger and honey dressing, which she thoroughly enjoyed.
For the mains, all the favorites were in action, with Jalferezis, Kormas and Biryanis all making themselves known on the menu, whilst less well known, but decidedly delicious sounding offerings included a Baruchi lamb dish from Kashmir, cooked with aromatic spices and mountain herbs, or Shorshe Maach, a Bengali specialty of steamed fish with brown mustard and green chillis. From the European mains, you could have an 8oz grilled fillet of salmon; a 10oz prime cut sirloin steak with your choice of peppercorn sauce or garlic butter; as well as pasta Napolitana, penne cooked with roasted veg in a rich tomato and basil sauce. I wasn't feeling in a very meaty mood, so I went for their Pindi Channa, from the Bahawalpur area of the Punjab region, a tangy chickpea dish with crunchy onion and ginger cooked to perfection and which I enjoyed immensely along with a Peshwari naan. Meanwhile, Rena decided on, and was delighted with, Ra Ra Gosht, a rustic Punjabi dish of lamb rump and bone marrow with slow cooked lentil beans, lamb mince and veg, which she ordered along with steamed basmati rice.