Restaurant Review - Lady Helen Restaurant @ Mount Juliet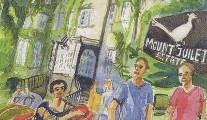 Tuesday 02 August 2016
Mount Juliet, to my mind, is the quintessential country house and its Georgian wisteria clad portico and frontage never fail to impress me on arrival. It's grand in a sense, but it's not so big or overtly ostentatious as to be intimidating and, although a hotel for many years, it's never lost the feel of 
still being a home, a rather posh home. It's a real life Downton experience, where solicitous members of staff look after you, just as they might have in the days when it belonged to the Earls of Carrick and subsequently the McCalmont family. Now owned by Tetrarch Capital, which numbers The Marker, Mount Wolseley and the Powerscourt Hotel amongst its portfolio, the house has had a superb refurbishment and 90 extra bedrooms are being added in the Hunters Yard.
I've dined in the beautiful Lady Helen on many occasions and the food was always very good, but not on a seriously competitive culinary scale. However, three or four years ago there was a noticeable drive and ambition emanating from the kitchen, under the baton of then Head Chef Cormac Rowe and Sous Chef Ken Harker, their efforts being acknowledged in 2014 with their first Michelin Star. Rowe departed Mount Juliet last year for the bright lights of Dubai and Ken Harker is now Head Chef.
Returning for the first time since the star, it was clear that
 the Lady Helen was on point 
on all levels, from service, led 
that evening by Eoin O'Neill, to the food which was exquisite.
 A Signature 7-course Tasting Menu was €75 with wine pairings available at €42 per person, while a 9-course Surprise Tasting at €99 had wine pairings at €58 per person. We chose instead from the Table d'hote, with 2/3-courses at €65/€75, including scallops, veal sweetbreads and quail starters, plus mains of rabbit and langoustine, rose veal, and Challans duck. Mind you, we were so spoiled with little 'amuses'
and 'finishers'; it was a tasting experience in itself. A creamy cheese cracker was followed by a sublime sweet and 'foresty' textured white onion pannacotta topped with Asian beech mushroom and crispy toasted sourdough cubes. My superb king crab starter, in two elements, had the Alaskan delicacy contrasted with colourful fine fine ribbons, spools and blobs, involving fennel, tomato, yuzu, cucumber and radish, with a yuzu pouring sauce, while a second plate had the crustacean encased in a tomato jellied essence. Foie gras for Brendan was equally beautiful with blobs, quenelles and splashes of apple and almond and a Pedro Ximenez jus. Ace. I followed up with rolls of black sole, gnocchi lozenges, brown butter, caper emulsion and chicken jus, each element meticulously embossed or browned to within a millimeter of the desired shade of perfection. Brendan's suckling pig, a vision of browns, caramel and cream, had pork belly, charred octopus, soya-apple balls, shitake mushrooms and folds of dark green cabbage leaves. I finished with a vibrant plate of 'citrus textures' with all manner of avocado, Champagne, Tokay Essencia and Orange Muscat, by way of foams, sorbets, and 'lacquered' pannacottas.
Would we have coffee and petit fours? Of course we would. More heavenly artistic treats by way
of a gold chocolate bar, a pink marshmallow knot, studded nougat, lime jelly, a red macaron...
With a delicious round and fruity Domaine des Lauriers Viognier 2014 (€40) and optional service the bill came to €198 which, at this level of dining, was superb value.
Lady Helen

Mount Juliet,
Thomastown,


Co. Kilkenny.


Tel: (056) 777-3000

mountjuliet.ie
lucindaosullivan.com
FIRST PUBLISHED IN THE SUNDAY INDEPENDENT