Restaurant Review - The Amber Lounge @ Fota Island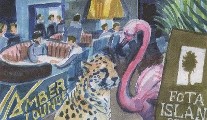 Tuesday 09 August 2016
Here we are at 
the height of the holiday season and, hopefully, you're all around and about the country with my Lucinda's Ireland guide in your pocket! Two of the best family attractions we have are on Fota Island in East Cork. The first is Fota Wildlife Park, on 100
 acres and dedicated to wildlife conservation, where you can get up close to amazing animals from Chilean Flamingos to Cheetahs
to Brazilian Tapers. The second 
is the Titanic Experience in 
Cobh, in what were the original White Star Line Ticket Offices on Casement Square. It was from here that thousands of Irish people emigrated to the U.S. including those final unfortunate 123 passengers to join the Titanic on its last port of call before it struck an iceberg and sank. It's a very poignant experience, during which you will view Heartbreak Pier, the last land point of contact for those on board, and also get the real feel of what life was like on board for both 1st and 3rd class passengers.
During our recent visit to 
both, we stayed at the fantastic Fota Island Resort and dined in their big new Amber Lounge.
The Executive Chef is Kenneth Murphy, who has returned to Ireland after 12 years working
in the Far East for the Luxury Anantara Hotel Group and for Richard Branson's Virgin Limited Edition hotels at the Kasbah Tamadot in Morocco and Ulusaba luxury safari lodge in South Africa.
There's the more formal Fota restaurant at the resort but the all-day Amber menu offers people the opportunity of enjoying great casual food also. It covers everything from scones and smoothies to afternoon tea, plus 'snacks' including Asian dishes drawn from Murphy's experience, like Thai Tom Kha Kai soup or raw Vietnamese vegetable rolls, and let's not forget the great posh sambos such as slow roast lamb on sourdough, prawn bap, ciabatta with tuna loin, pizzas and burgers, braised lamb shank et al...
From the 'snacks' section, or what I might call small plates
or starters, Brendan kicked off with plumptious skewers of grilled tandoori chicken (€9) with little dishes of yoghurt dressing, pickled cucumber and tomato salsa, while I had a smashing little cast-iron cassoulet of Portuguese style prawns pil pil (€12.50) bathed in chilli oil, roasted garlic and parsley, with warm toast, criss-crossed on a slate, beside a charred lemon half. Brendan followed up with a mighty portion of beer-battered fish and chips (€19.50), with mashed minted peas, tartare sauce and hand cut fries, which, although delicious, was so big he couldn't finish. I stuck to the 'snacks' section and moved on to what was called the 'Barryscourt slider plate' (€12.50). I'm not quite sure where the connection between Barryscourt and the trio of sliders comes in, but one way or another they were darn good, and certainly more than a snack in anyone's terms. Three different buns (plain, poppy and cumin) held delicious moist burgers of Irish beef, turkey and lamb, with little dishes of relish and a side order of fries (€3).
Desserts (€8) included an 'artist palette' of home made ice-cream and sorbet; fruit Pavlova; a taste of apple; and a selection of Irish cheeses with frozen grapes, truffle infused honey and home made chutney. We shared a sinful dark chocolate mousse with a peanut crunch and vanilla ice-cream, with a delicious bottle of citrusy New Zealand Marlborough Ribbonwood Sauvignon Blanc 2014 (€35) and optional service, our bill came to €109.50. 5-star stuff in a 5-star location.
Amber Lounge,
Fota Island Resort,
Fota Island,

Cork.

Tel: (021) 488-3700
fotaisland.ie
www.lucindaosullivan.com
FIRST PUBLISHED IN THE SUNDAY INDEPENDENT