Restaurant Review - Samphire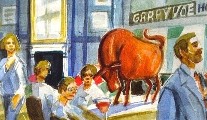 Tuesday 26 July 2016
Social eating' is what it's all about now. It has a nice warm golden ring to it and is a sort of culinary step
up from 'casual dining'. It's being embraced big time by smart hotels who not only want to ensure their dining offering is sufficiently strong, to keep their residents chowing down in-house, but also to become a hip 'stand-alone' destination for those wanting everything under one roof – a great bar, great food, and space to do the socialising – almost like one big house party!
The UK Michelin-starred chef, Jason Atherton, opened his first restaurant, Pollen Street Social in Mayfair, around Royal Wedding time. A huge success, he followed up with Little Social, Social Eating House, City Social, Social Wine & Tapas, plus Aberdeen Street Social in Hong Kong, Marina Social in Dubai..Sydney, Shanghai... I guess you could say 'social' works!
We now have Samphire Social Eating in East Cork at The Garryvoe Hotel, incorporating a fab central oval cocktail bar, with Samphire, their 'social eating space', to one side and, on the other, a contemporary French chateau style 'library' with dramatic big black chandeliers and button backed sofas. One space feeds into the other, so you feel you are part of everything, and all have sea views out to Ballycotton Lighthouse. "When they do things here, they do it really well", said Brendan, over our reasonably priced Dingle Dirty Martini and Cosmpolitan cocktails (€8.50 each), as we absorbed the menu. "Taste without all the fuss, we want you to enjoy the flavours and fun we have created" is their mission statement, and Executive Chef, Kevin O'Sullivan, has certainly come up with a creative menu. There are nibbles and sharing boards, including black tiger prawns in garlic and naked local oysters from the bay, starters (€6.50-€9.50) include 'Quirky Quail' with egg lasagne, asparagus tips and veloute, brown mushroom and parmesan, as well as a 'Coastal Heritage Salad' of seared king scallops, heirloom tomatoes, samphire, wasabi aioli and courgettes. We kicked off with 'Oceans Two' (€17), a sharing platter for two, sporting delicious crispy calamari strings, a brace of oysters, seared chilli prawns, and a Kilner jar of fresh crabmeat. Served with brilliant breads and sea-salt scattered butter, bearing the lines made by old style 'butter pats', it would actually make a great lunch dish on its own.
Mains (€18-€25) included 'Tom Kelly's' 8oz fillet or 10oz sirloin with curly kale, chestnuts, mushroom persillade and sauce bearnaise; 'East Ferry' chicken or 'Cod from the Pond,' as well as sharing boards for
two (€36/€38) – 'Our Own Style Paella' and 'O'Farrell's Spring Board'. Brendan had 'Not Fish & Chips' (€25) – three superb pieces of saffron flavoured monkfish, scattered with confit potato chips and glorious sprigs of the salty samphire sea-vegetable. I had the 'Spring Board' for one (€23), and I also saw the full board at the table next to us. Both were 
a trencherman's delight of tender pink lamb rump, a joint of braised shoulder, traditional lamb stew, curly kale and Moroccan spiced couscous.
The crowd was thick around the big cocktail bar as we moved on to desserts (€8 each), prepared by their French pastry chef. A cocktail glass of divine zingy lemon mousse was topped with raspberries, basil leaf dots and baby meringues, while a large Schiaparelli pink macaron looked a picture, with raspberries, rosewater cream and lychee granitee. With a summery bottle of light citrusy Hugel Riesling 2012 (€28) and optional service, our bill came to €138.00. Get socialising!
Samphire

The Garryvoe Hotel,
Garryvoe,

East Cork.

Tel: (021) 464-6718
garryvoehotel.com
lucindaosullivan.com
FIRST PUBLISHED IN THE SUNDAY INDEPENDENT