Our Latest Great Place To Eat - Rasoi: Indian To Go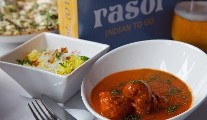 Tuesday 26 July 2016
Benny Jacob is familiar to many lovers of top notch Indian food having been at the superb Ananda for many years and he is now also involved in the new Pickle on Camden Street. If anyone knows good Indian food he does, and Rasoi provides high-end, restaurant quality Indian food straight to your door. Their executive head chef, Bishnu, was trained and worked for the world famous Taj Group in India, before coming to Ireland and working at Ananda and the equally superb Rasam.
Besides having the best chefs around, they ensure the high standards they strive for by using only the very best meat, seafood and vegetables in their cooking, along with herbs and spices that they mix, roast and grind daily guaranteeing supreme freshness and flavour.
Having already indulged a number of times, I can tell you for certain that the food here is consistently excellent. The starters here include Onion Bhajji served with tomato chutney; Dilliwala Chicken Tikka with traditional tandoori masala and yoghurt marinade, served with a mint chutney; as well as Punjabi Samosas stuffed with potatoes, peas, raw mango powder and coriander seeds, and served with a tangy chickpea masala. On my most recent night in, I went for their Aloo Bonda, tasty potato dumplings in a chickpea and rice flour batter flavoured with onion, garlic, mustard and curry leaf, and served with a tamarind chutney. Brendan chose their specialty, Kurkuri Tarkari, a tempura of crispy batter fried mixed vegetables with cumin and mango chutney.
For the mains, there is plenty to choose from, under the headings of seafood, chicken, lamb, vegetarian or biryanis, along with a salad menu, a tasting menu and their Rasoi Lite menu, which is light on calories but not on flavour. All of the old favourites are there with dishes like Prawn Jalfrezi, Tandoori Chicken, Chicken Korma or Lamb Rogan Josh, to name but a few, alongside a host of fab less familiar dishes like a butternut squash flavoured Mysore Chicken Curry with potato, carrots, onion and a touch of cream; Baruchi Lamb – from the house of Marathas - cooked with grated coconut, spicy cherry red pepper, tamarind and fresh coriander; or their Takra Dal of yellow lentil tempered with whole red chilli and wine tomatoes. On this occasion, I decided to try a very tasty Kerala Fish Curry of Tilapia fillet (a white flatfish) in an onion and tomato curry with fenugreek powder and a dash of coconut milk, whilst himself across the dining room table went for their Lamb Biryani, a perfumed rice dish with coriander, mint carmelised onion, saffron and a smidgen of cream, served with a mint and cucumber raita. He was delighted and happily dug in 'til their was nothing left to dig.