Our Latest Great Place To Eat - Pickle Restaurant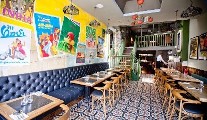 Wednesday 20 July 2016
Born in Gwalior in North West India, from aged 10, Ghai helped his mother with food for the large family. After school, he qualified in Hotel Management, working for the top Taj Hotel Group, before joining the superb luxury Oberoi Hotel Group in Shimla, dubbed the summer capital of the British Raj. Here he broadened his culinary skills and sophistication by working under French chefs for three years.
He is as it were returning to his roots with Pickle, focusing on North Indian regional cooking, in a setting that is based on the old Irani cafes of Bombay, with their multi-societal clientele. Their faded elegance is recreated here with exotic patterned tiled floors, stained mirrors, vintage light fittings and dark battleship green walls.
The menu is broken up into Gupshup, which are small plates. Tandoori Chakna covers chops and game, while Desi Khana are curries and biryanis. While Paris has MG Road and London has Dishoom, this is a completely differently type of Indian experience for Dublin. You won't be kicking of with standard poppadoms at Pickle but you will discover glorious breads such as toasted pao with a goat curry and glorious deep fried feather light bread balls with chana bhalura a superb Delhi special of masala chickpeas and mango pickle. I do, however, suggest that you kick off with a stunning box of multi shaped and coloured cassava, lentil, and vegetable crisps with deep dense pickled prawns and mango chutney. Amazing.
Gupshup sported curried scallops, and semolina coated prawns, but we ordered dilli wala samosa, venison keema roti and chicken wings to share. Ghai's presentation always dazzles. There isn't a board or slate in sight, rather the sheen of traditional beaten silver dishes and pretty plates. However, it's not even those, it's how the man can make three pyramid shaped vegetable potato and pea samosas simply sparkle on a black plate by just standing them like dolmen overlooking a creamy pool of sour yoghurt spiked with three vibrant pink pomegranate seeds, alongside a dish of ginger, raw mango and jiggery chutney. The chicken wings had the bone exposed to eat like lollipops and dipping into roasted tomato, garlic and Kashmiri chilli chutney, while venison keema had the meat stuffed into naan bread and served on a vintage style blue and white plate around a silver bowl of berry chutney...