Restaurant Review - St Kyrans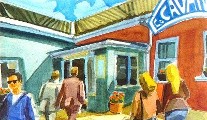 Tuesday 05 July 2016
Sitting on a sun-drenched terrace with panoramic lake views and a Kir in hand,
I couldn't but feel a little smug thinking of friends who were tweeting of the awful weather in Cannes and the Languedoc. We could have been at Lake Como, but we were at St. Kyrans at Lough Ramor
 near Virginia in Co. Cavan. It's a country house restaurant cum B&B with aspirations and has, in its kitchen, an up and coming young chef of note, Eddie Attwell. You won't be bowled over by the ordinary looking bungalow exterior with rather tacky Tea and Coffee 'cup signs' affixed to the wall, but persevere because once you walk through the door you're into a different world with a smart restaurant, lovely bedrooms and that view...
Eddie Attwell is a young man from Craigavon who spent eight years in the UK, was a Roux Scholarship finalist, worked at the Michelin 2-star L'Enclume in the Lake District, before being head hunted by the noted chef Ian Orr to become Head Chef at Ardtara in Co. Antrim. You'll also see Attwell representing Northern Ireland in the BBC's Great British Menu 2016 where Prue Leith, Matthew Fort and Oliver Peyton decide who cooks at the banquet in honour of Queen Elizabeth II's 90th birthday. I did a stint as the NI region guest judge a few years back with Matthew Fort, who amazed me by chomping through particularly bad food saying "I never leave anything on a plate, so they don't know what I'm thinking"!
The food was divine. An amuse of seaweed cracker, cod brandade and watercress emulsion,
 arrived with malt, sourdough
 and fennel jam breads. Starters (€6.50-€10.50) included whiskey and vanilla poached salmon, cucumber ribbons and pickle, scurvy grass emulsion, crispy pink prawn tail and sea purslane, while pork jowl was paired with crisp black pudding, pickled apple, celery, watercress salad and emulsion, caper and lemon jam, jus gras. Brendan had dark salted- beef fritters (€9) which looked stunning dusted with onion ash, intermingled with pickled onion, cauliflower, carrot rolls, rocket and lambs lettuce. Pan-fried scallops (€10.50) for me focused around the anise flavours of the celery family and sweet elements of the pear. I loved it. Three seared scallops, a tube of celeriac and scallop cannelloni, were interspersed with pear gel, burnt pear, powder and crisps, celeriac and pear puree, shaved celery, and a celery and pear pickle.
Mains (€22-€31) had a fab lamb plate, as well as fillet of beef, chicken, or Chateau briand to share, all with equally interesting pairings. Butter poached fillet of hake (€24) had a creamy dewy assemblage of confit potatoes, textures of onion, mussels, sea vegetables, green peppercorn and orange emulsion. Roast breast of silky pink Thornhill duck (€24.50) for me involved crisp confit duck leg, duck pudding, duck egg yolk, creamed cabbage, burnt orange, salt baked parsnip and puree. The waitress had asked us what side orders we wanted and, expecting small portions, we ordered one small fries (€3.25), but you absolutely don't need anything more than is on the plate.
We finished sharing a dessert
 of ginger cake (€7.50) with black
currant leaf, Velvet Cloud sheep's milk mousse, poached pear gin and lime ice, which was ace. 
With terrace aperitifs (€7.50 each), an aromatic Alsace Domaine Jean-Luc Mader Riesling 2015 (€31.50), water (€8) and bed and breakfast (€120) our bill came to €253.25.
They do an amazing value 7-course tasting menu at €40 per person on Wednesday and Thursday nights – beat a path.
St Kyrans
Virginia,

Co. Cavan

Tel: (049) 854-7087
st.kyrans.com
lucindaosullivan.com
First Published in The Sunday Independent