Restaurant Review - Canteen Cellbridge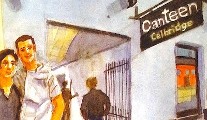 Tuesday 12 July 2016
It seems like no time at all since James Sheridan and Soizic Humbert opened their first Canteen at Blackrock Market, a tiny 20-seater space that, as I said at the time, reminded me of Rachel Koo's 'Little Paris Kitchen'. With tables covered in brown paper and a menu hanging from a brown paper roll, they offered a no-choice menu at €42. It was all totally charming, and won the hearts and minds of the locals as they say. That was all a couple of years ago, and they've since handed over that premises to Heron & Grey. Moving on to Kildare's green pastures, they've just unveiled their spanking new Canteen Celbridge in Sheridan's home town – an ideal move as they now have a baby son.
They are both accomplished chefs, who met when they worked together in 'Residence' on St. Stephen's Green. Sheridan has also worked in Thornton's on St. Stephen's Green, and at Gidleigh Park and Bath Priory in the UK. Humbert, from Brittany, also worked in Thornton's.
As I arrived with my friend Paul, on their first night open to the public, Humbert smiled and gestured proudly at their new room, while Sheridan bounded out of the kitchen laughingly saying "we have an inside loo here!" The restaurant is to the rear of one of Celbridge's pretty old main street houses and, while there is a door to the front, it directs you around the side, where you are suddenly in a long contemporary room, elegantly decked out in shades of grey, contrasted by colourful art works and maple topped tables, with a banquette on one side and floor to ceiling glass on the other, making the place feel light and airy. They have a certain style and this time around the menus are written on posh paper!
The dinner menu was €32/€38 for 2/3 courses, but we were in time for the early evening menu which was great value at €24/€27 for 2/3 courses, more particularly as all of the dishes offered were on the main menu. Eschewing Macroom buffalo mozzarella bocconcini, organic violet artichoke and basil, Paul chose 'Ham & Egg' on toast, while I had charred mackerel. Needless to say, this was not your 'Full Irish' but a smart 'suited and booted' number with a sunny duck-egg yolk on a precision cut rondelle of toasted brioche, framed by an outer circle of pea puree, the inside borders holding girolles, peas, lardons and jus gras. Paul all but licked the plate. My mackerel was no'second runner', singing of summer with oyster mayo, little crisp balls of Granny Smith apple and cool cucumber wafers. Cod Bouillabaisse, with fregola (tiny pasta grains), confit tomato and mussels, sounded good, but Paul was enticed by a wonderful presentation of confit suckling pig, roast York cabbage, gnocchi and thin rectangles of sweet sweet turnip. Roast lamb rump for me was superb. The lamb was light, pink and tender, artistically arranged with buckwheat spatzle (a Germanic soft noodle), charred leek, baby fennel and confit garlic sauce. With the mains, we also received a little pot of boulangere style potatoes.
To finish, we shared an absolutely magnificent salted caramel brulee, with sable Breton and vanilla ice cream, and an elegantly simple presentation of Mossfield Sleibh Bloom and Young Buck cheeses with a quenelle of pomme (a sweet apple puree) and homemade crackers.
Washing all of this down with a fruity and aromatic Domaine de Bertier Sauvignon Viognier Pays d'OC 2014 (€28), which came highly recommended by Soizic, our bill, with water (€3) and optional service, came to €93.50. Canteen Celbridge is a cracker.
Canteen Celbridge,
4 Main Street,
Celbridge,

Co. Kildare.
Tel: (01) 627-4967
canteencelbridge.com
lucindaosullivan.com
First Published in The Sunday Independent