Restaurant Review - The Coburg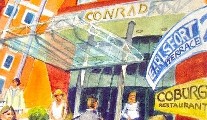 Tuesday 28 June 2016
I sometimes wonder whether chefs 
actually taste the food combinations they come up with for their smart new menus or do they just pick the ingredients by numbers or colour? Primarily, to design a menu you need to have the palate and instinct to know what works with what. There's innovation and fusion, and all that jazz, but there's still a reason why mint sauce goes 
well with lamb; horseradish 
with roast beef or smoked fish; apples with pork; cranberries
 with turkey. Every cuisine has similar condiments to create the same effect: the Japanese with
 hot wasabi; the Scandi countries with lingonberries and so on.
 This came to mind at The Coburg at the Conrad Hotel Dublin, which is so called because the nearby Iveagh Gardens were once named after the Queen's ancestors, the German Saxe-Coburgs, a name dropped during WWI by King George V, who couldn't wait to disassociate himself publicly from 'Cousin Willie'– the Kaiser. Mind you, it was a tad amusing to see the German cousins, the Prince and Princess of Hesse, in the front
 row at the Queen's 90th-birthday celebration, at a time when 'Brexiting' from Merkel's Europe was the hot topic. Anyway, the theme is inspired by "the grand Irish tradition of equine sports" with various horsey details involved in the smart decor, which features a Champagne table.
An all day casual menu covered oysters, small plates, sandwiches, fish, steaks and burgers, with
 the current passion for 'casual' lobster featuring with lobster rolls, lobster and prawn ravioli, or lobster cocktail. Lukewarm bouillabaisse (€12.50) had a good flavour, plenty of mussels, prawns and
 cubes of fish, and my friend Rena enjoyed it. Lobster cocktail (€14.50) owed more to its long stemmed copper cocktail 'glass' than to the dollop of lobster cocktail sitting amid three dry dull leaves. It was impossible to discern
 the components of this cocktail melange, which was very finely chopped in a 'spicy cocktail sauce', but the distinctive flavour of lobster was sadly annihilated by a sweetness that reminded me a tad of crabsticks.
Rena's shrimp burger (€15.50),
 the waitress explained, was a shrimp and breadcrumb mix, coated with breadcrumbs and deep-fried. It was, however, as dry as sawdust 'rissole', sitting with a slice of tomato and a piece of Cos lettuce, in a dry brioche bun, with a small copper pot of tartare sauce and chips to the side. I had turbot with squid ink tagliatelle and peabroth (€20) which was just awful. Turbot can grow up to 18kg and anything smaller that 2.5kg 
is generally described as 'chicken turbot'. Very often served in good chunky troncons, sometimes roasted on the bone, turbot's meaty texture can take robust pairings, as can squid ink pasta. Here, two small flat pieces of not nice tasting fish rested limply on tagliatelle, being drowned in a pond of unseasoned watery 'broth' more reminiscent of diluted liquid from a can of mushy peas rather than sweet petit pois. It all went back. The waitress gamely said, "you've saved the best for last", as we soldiered on with a mediocre chocolate fondant (€8.50) and a cheese board (€9.50). The Food 
& Beverage Manager approached and got a polite earful. It was food with no heart, lacking attention 
to detail. There are great places to eat all over Dublin, so the 5-Star Conrad needs to serve better food than that which we experienced..Having removed my lobster cocktail and main course from the bill, with a glass each of wine (€18.50 total), water (€7), and optional service for the pleasant staff, the bill came to €78.60.
The Coburg,

Conrad Dublin Hotel,
Earlsfort Terrace,
Dublin 2.

Tel: (01) 602-8900
coburgdublin.com
lucindaosullivan.com
First Published in The Sunday Independent