Our Latest Great Place To Eat - The Church Bar & Restaurant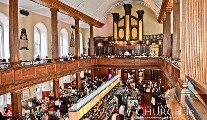 Wednesday 06 July 2016
Set in the former St. Mary's Church of Ireland, one of the oldest galleried churches in Dublin, the architecture and decor here are simply breathtaking. The room itself is enormous with a fantastic big central bar on the ground floor, whilst the above galleries, where dinner is served, gives diners a fantastic view of the wonderfully adorned parochial setting.
On my last visit, starters included a pressed terrine of smoked ham hock and pig cheeks with a pickled baby veg salad and sauce vierge; Irish goats cheese bon bons lightly fried and crusted with pistachios; as well as Clonakilty black pudding with a Ballon Farm free-range scotch egg. I decided to try their 'Taste of Salmon' dish, which was a wonderfully flavoursome mix of smoked, oaked, beetroot scented salmon with a plum tomato and fennel salsa and herb aioli. Brendan, who was also in a fishy mood, chose pan seared Atlantic scallops with a butternut squash puree and white asparagus. The scallops were perfection, seared on the outside but retaining the moist silkiness on the inside, which is so important to this fabulous mollusc.
For the mains, there was lots from which to choose with dishes like Slaney Valley rump of lamb with crushed baby potatoes, glazed baby carrots and a herb paste; Irish fillet of salmon with wild garlic and spinach mash; not to mention pan fried fillet of seabass and Dublin Bay prawns, which had a Moroccan influence by way of a red pepper coulis and citrus infused pomegranate couscous. Ever the carnivore, himself went for a prime Irish sirloin steak, cooked medium rare as requested, and served alongside a roasted vegetable stack, Dalkey mustard mash and a tasty pink peppercorn sauce. I was in pasta mode with a dish of fresh tagliatelle tossed with peppers, cherry tomatoes, courgettes, wild asparagus, toasted pinenuts and a basil veloute and topped with parmesan tuille. Delish!