Cork's Casual Revolution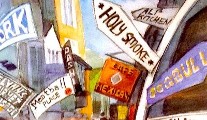 Tuesday 21 June 2016
Between boom and bust we've seen 
a seismic change in our dining habits, with the casual revolution becoming a worldwide trend. Consequently, restaurants
 that haven't seen the light by deformalising their set up may well end up folding their starched napery for the final time! Today's diner is a cannier guy who's seen it all, and even if he hasn't travelled the world on his gap year, he's done it virtually. He knows his chipotle from
his chipolata, his burrata from
his Baloney, his Negroni from his nachos and Instagrams everything in sight. He's not impressed by a sniffy sommelier trying to upsell, or the Nordic tasting menu with
 a single slug crawling out from under a lettuce leaf. He doesn't necessarily want to drink in silly-bugger jam jars, have his chips in a shopping trolley or his Toulouse sausages or pulled pork served on an upturned bin lid – he wants good food in a casual setting. He may well be into watching Diners, Drive-ins and Dives, but over-the-top gimmicky hipster upcycling, like all fads, is contrived and boring, and the 'one-visit' eateries that embrace this philosophy will hit the dust too. He wants to be somewhere casually sophisticated with really stylish food and a happening vibe. He'd prefer 
too, rather than lashing out silly money once a week, to be able to spread that money throughout the week on more relaxed eats.
Top Michelin chefs around the world have been drifting towards the casual option to augment their bank balance. They may still have the Michelin aura, but Marco Pierre White copped on years ago by focusing on his brand of steak houses, while Giorgio Locatelli, 
of the Michelin starred Locanda Locatelli, has been venturing down the road of more casual dining with his pop-up Pizza Locadeli. Jamie Oliver with his well-established chain of Jamie's Italian restaurants, last year
went down the route of American barbecue restaurants with Barbecoa, enrolling the Brad Pitt of pitmasters, Adam Perry Lang, of Daisy May's BBQ restaurant in New York, to get the theme right. It's 
a carnivore's delight, of course, almost primitive in ethos, chowing down on huge lumps of meat that have been smoked and fired as our ancestors did thousands of years ago out in the open. The competition for the steak and burger market is huge everywhere and this brings me also to the dining scene in Cork city. Holy Smoke has just opened
in the Mardyke Entertainment Complex, with Jamie's former Barbecoa Pitmaster, John Relihan, in the saddle, bringing the New York experience to the banks of the Lee. In latter years, I think its fair to say, Cork hasn't exactly been a trailblazer on
the restaurant scene in the same way that Dublin's has, with vibrant with new eateries at all levels – street food, ethnic, smart hip, posh nosh and so on – or Galway, which
 has reinvented its dining scene with street food, cutting-edge restaurants, and hosting major food events such as Food At the Edge, which has seen top international chefs coming from Spain etc. Lately though, in Cork, they've been embracing the hipster vibe, with a burgeoning of small casual street food style places – noodles, tapas, burgers, Mexican. I've always loved the way you can find great little local bistros and bars
in side streets in cities around the world, including Melbourne which is famous for its laneway eateries, and Cork has lots of those wonderful little side streets feeding off Patrick Street, Oliver Plunkett Street, and Main Street. Coqbull on French Church Street opened last year and is a hugely popular casual burger and chook offshoot of Padraic Frawley's Cornstore. The White Rabbit Bar & BBQ on MacCurtain Street is hopping too, while, nearby, The Fish Wife is reeling them in for great fish 'n chips.
It's actually quite lovely, strolling around these little streets doing your own food crawl. Sauntering around Oliver Plunkett Street, the waft from O'Flynn's Gourmet Sausage eatery on Winthrop Street, where a friendly chap was grilling away had mewishing we had an equivalent
in the capital. The Rocket Man's East delicatessen at the gorgeous Winthrop Arcade was interesting too with all sorts of falafel and coffee. On Carey's Lane, beside the colourful longstanding 
Cafe Mexicana, is The Meatball Place, an idea brought back 
from Australia by Tony Costello and Grainne Holland, which
is flying high. You choose your ball - chicken, pork, fish, beef, falafel; then a blanket – one of
six sauces; finally a bed – pasta, mash, parmesan fries and so on. Quinlan's, the Kerry fish people, who have seafood eateries in Killarney and Tralee, have moved into Cork with their new Seafood Bar on Princes Street. Del Italy 
is lovely for its wide selection of pastas and salumi that you don't see in other places, while Dashi, doing sushi and noodles, has
been on Cook Street for a while, and the stylish Iago, with its amazing cheeses and homemade pastas, is out on its own. Having visited the extraordinary English Market, I headed over to the
new Ali's Kitchen, the latest venture of Ali Honour, where I had Cloud Picker coffee along with fantastic chorizo and eggs
on sourdough toast with harissa and rocket. Another Cork hotspot is Miyazaki, a small Japanese eatery and take-out on Evergreen Street, which has all the 'foodies' oohing and aahing. Again, a good contemporary Japanese eatery
is needed in Dublin, along the lines of London's Roka chain. Good Japanese food has a clean cut finesse and style that frankly we haven't experienced yet in
this country. Noodle joints are thriving, including Aroi with its three branches, and Ramen, who last year had three places, are now about to open their sixth in the Cork area. Oh yes, if you want to see recycled vintage galore, take a spin out to The Workshop, a café near Cork Airport Business Park. It's certainly funky and the food 
is good.
lucindaosullivan.com
FIRST PUBLISHED IN THE SUNDAY INDEPENDENT