Restaurant Review - Cirillo's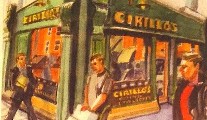 Tuesday 14 June 2016
I recently wrote about Nico's, one of the oldest Italian restaurants in Dublin, and this week I'm writing about the newest, which has just been opened by the next generation of the same family. Emilio Cirillo took over Nico's in 1977, and almost forty years later his nephew, James Cirillo, has just opened the eponymous Cirillo's on Lower Baggot Street. The two establishments are like chalk and cheese – Nico's is traditional in the best sense with not a pizza in sight, while Cirillo's offers authentic Italian food, from a snappy little menu of antipasti, pasta dishes and wood-fired pizzas, in the chicest of settings at great prices. A lot of thought has gone into what looks like a simple operation. The pizza oven was imported from Naples and burns a blend of Irish oak and ash; the pizza dough is slow-proved for 30 hours using a recipe from the Head Pizzaiolo, Luca; pasta, pizza dough, breads and ice creams are all freshly made in-house every day. They offer a choice of regional wines from boutique producers, along with craft beers, and, as the perfect aperitif, a choice of five takes on the popular Italian Spritz.
On two levels, retro forest green leather banquettes blend with bare cement walls, bentwood chairs, white tiles, and vintage brass lights. We were there on its first night and were quickly brought a complimentary Aperol Spritz (Aperol, Prosecco and soda water). It's similar to my favourite, Campari – low alcohol and a particularly lovely drink in summer with a slice of orange.
Antipasti (€8 - €13) included the ever-popular calamari, but here 
it comes with black garlic aioli, while salmon crudo is house-cured and served with a carrot salad, wild garlic dressing and crispy skin. A little bruschetta plate incorporated marinated tomatoes, pickled anchovies and mascarpone, and wild garlic pesto and mushroom. Arancini (€8) – deep-fried rice balls – for my friend Paul were three lovely moist 'golf balls'` stuffed with tomato, mozzarella and basil, with gorgonzola and basil olive oil. A selection of Italian cured meats (€13) for me was all it should be
– but very often isn't – with five different types of salami, Italian sausage and prosciutto, elegantly arranged in folds alongside a salad of cured vegetables, which provided the perfect contrast to the rich oiliness of the meats. With this, there was a plate of delicious chargrilled flatbread.
Pasta dishes (€16) had papardelle with braised short
rib, tomato ragu and wild garlic pesto; casarecce with ham hock, lard, cavolo nero and crispy skin in a carbonara sauce. I had the third option – a big bowl of fusilli with crab, chilli, marinated crisp asparagus and chilli oil, which was as delicious as it was light
and summery, sans any creamy or heavy element. Ten pizzas (€11.50 – €14) included the popular Margherita, Marinara, and Diavola but also a Parmigiana with fried aubergine and double Parmesan. Paul had a Carbonara pizza (€14), richly lavished
with mozzarella, egg, pecorino, guanciale and black pepper. It was delicious, but, having had the substantial starter and flatbreads, he couldn't eat a lot of it. Although we protested, as there was nothing wrong with it, they insisted on removing it from the bill.
We managed, however, to thoroughly enjoy between us a delicious slice of dark truffle cake (€7) with a quenelle of ice cream. So, with two glasses of Sicilian, Cento Cavalli Grillo, 2014 (€8 each), bottled water (€2.50) and a double espresso (€2.50), our bill with optional service, which was delightful, came to €75.00.
Will I ever be able to get in here again – let's keep it a secret!
Cirillo's

140 Lower Baggot Street,
Dublin 2.
Tel: (01) 676-6848
cirillos.ie

lucindaosullivan.com
FIRST PUBLISHED IN THE SUNDAY INDEPENDENT